Outstanding Birthday Party Buses at Competitive Rates!
Call Us Today for Quotes and Availability
630-383-4200!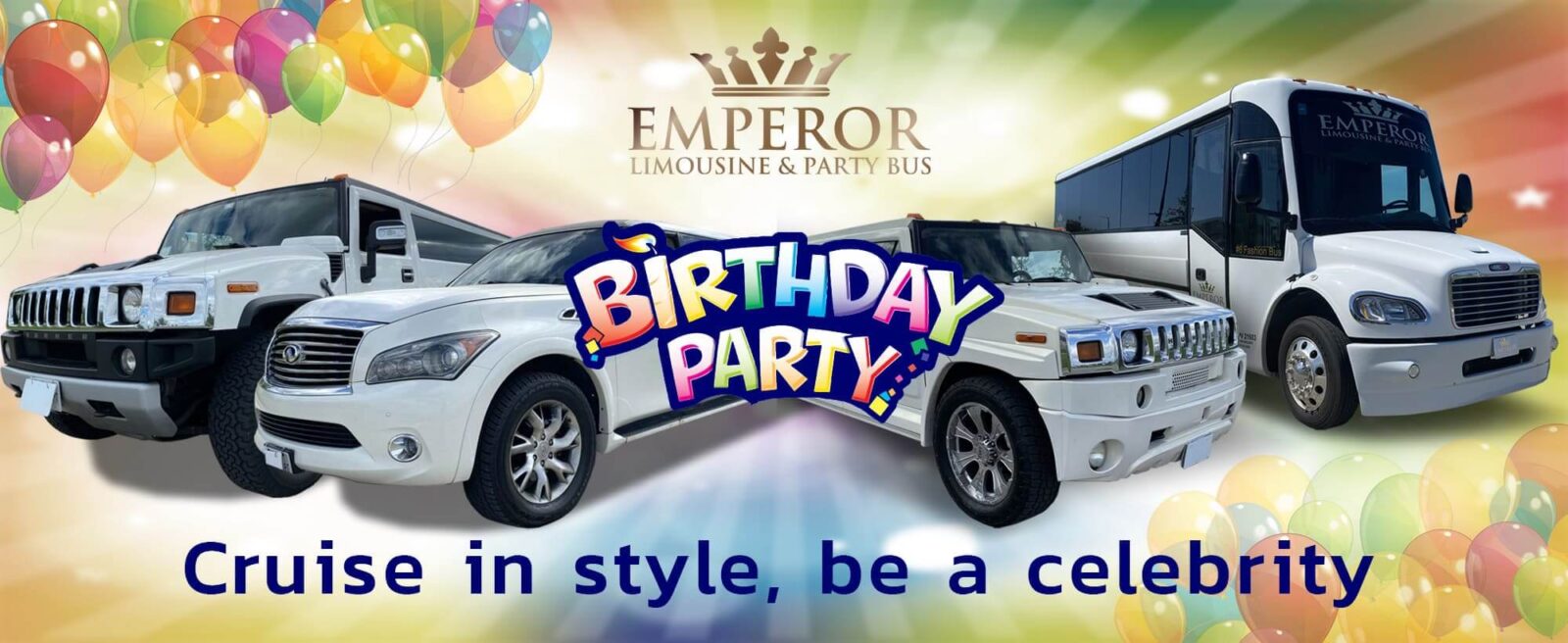 One more year has passed, and you are again preparing for this magical holiday – your birthday. The guests are already ready to congratulate you, but where will you celebrate this important date? Cafe or restaurant seems rather mundane and unimpressive. You also can't have a picnic because the weather has let you down. The best solution at any time of the year is the Chicago birthday party bus rental service. This is a cool opportunity to have a great time with friends, relax, take a lot of incredible photos, and keep such memories for years to come.
Our fleet of party buses for birthday party
If you are still thinking about party bus rental in Chicago, then we offer to explore our advantages to make it easier for you to make the decision. Firstly, we have our own fleet of vehicles, so we carefully monitor the external and internal condition of each auto. Secondly, we care about each customer, so we have equipped the interior of each bus better than in any modern club. Thirdly, the price of our services is very low. You will spend much more with a group of 10 friends in a club, but we will give you more positive emotions.
Call Emperor today.
(630) 383-4200
Why you need to rent a party bus for birthday in Chicago
If you appreciate bright emotions and want to have fun with friends, then you need something creative and unusual. Party buses for birthday party in IL are the best solution because you will get a lot of positive impressions and be able to surprise your friends. It's not just a fun trip with music and alcohol; it's also a cool opportunity to get unbelievable photos. You deserve only the best, which is why we offer our fantastic vehicles for a mind-blowing party. Hire our chauffeur and a wonderful party bus; you create a magical holiday atmosphere that your friends will definitely not forget.
Birthday party bus amenities
Our company provides high-quality party bus services for birthday in Chicago area. We know how to impress even the most demanding guests because we take into account any details. We have over 10 luxury party buses with different custom interior styles in our personal fleet. Every limousine and party bus is equipped with a modern sound system, so you can choose your favorite music, and listen to it throughout your trip via your smartphone. We offer crazy lighting that illuminates not only the ceiling but also the walls and floor. This is not just bright multi-colored lighting; this is a real laser show.
Comfortable leather seats, music and a drink bar make our buses not just a means of transportation; they are chic club on wheels. Enjoy your favorite drinks from ice coolers; we also have an alcohol map. All you need is to contact us and share your wishes. Specify the number of people in your group, and we will send our super party bus at the right time in Illinois and throughout the Chicago area. Our chauffeurs are experienced driving experts, so you can be sure that your trip will be safe. We have also prepared a little surprise for you – a party bus for birthday party with jet doors like Lamborghini or Ferrari sports cars have. Just imagine that you can enter and exit from different sides.
Call Emperor today.
(630) 383-4200
How much does it cost to rent a party bus for birthday?
Of course, it seems to you that all these cool things that we offer cost a lot of money. But it's not. We offer an affordable cost of party bus for birthday so you can enjoy every minute without thinking about huge expenses. We do not need to pay for the rental of each bus because we have our own fleet and reasonable prices for Chicago party bus rentals. Payment is hourly, but all rates are discussed individually; it depends on the set of services that our client wants. You need to contact the nearby office and discuss the details by phone or in person. Our specialists will prepare the necessary documents and bring them to you if you do not want to go to our office. Get quotes now and go on the trip of your dreams. One call and an amazing party bus will be standing near you.