Incredible 40 Person Party Bus for Rent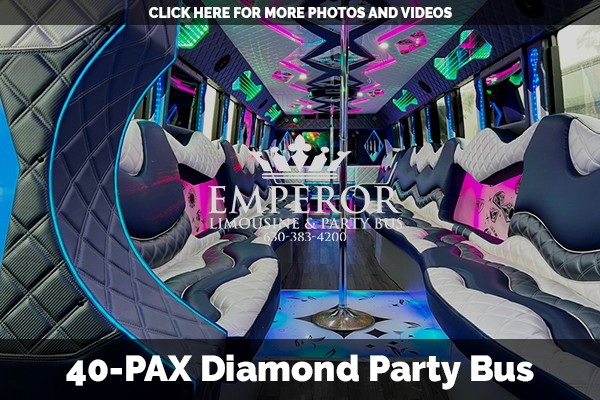 Outstanding Party Bus Service at Competitive Rates!
Call Us Today for Quotes and Availability
630-383-4200!
Please take a look at our DIAMOND Party Bus for 40 passengers! More photos and videos will be available soon, meanwhile,
please call us at 630-383-4200 and schedule a viewing in our showroom.
Incredible 40 Person Party Bus for Rent
For your rest and celebration different holidays like wedding, birthday, bachelor party, night party, concerts, sports events, quinceañera, prom, homecoming, bachelorette, school dance or just relaxing after a hard day. It is the best idea to relax with the Diamond bus. We offer you a 40 person party bus in Chicago. Our affordable party buses present you the best night in your life. You can do all you want with our party bus that fits 40 seaters and more.
Call today to book The Diamond Party Bus
(630) 383-4200
40-Passenger Party Bus Feature
Diamond is a unique new version among party buses for 40 people! It has a big area for dancing, comfortable sofas, bars, mirrors, neon lights, and good sound. It is stylish, beautiful, and safe.
The design of Diamond in the Chicago area was made with the photo zone that attracts people's attention. This bus is considered the most excellent car destined for the disco on the wheels! It combines the elements of traveling and amusement. A fantastic environment bewitches the clients of this 40 seater party bus.
Party buses are the best chance to fight in a bad mood and to get rid of stress. If you choose this model, you get along with its design and the possibilities of such a vehicle.
40-Passenger Party Bus Amenities
The diamond bus has a unique decor. It is filled with a red color. Also, this 40 person party bus in Chicago has very qualified personal.
Diamond is equipped with furniture, which betrays comfort for your rest. Nearby amenities are the complex of all necessary elements for a complete life!
This is a new version equipped with the entire row of different services and capabilities such as:
karaoke;
show with lasers;
a machine that releases smoke;
bar;
bubble show;
area for dance;
sky lanterns;
helium balloons;
photo zone;
video zone;
The program of your disco is negotiated in advance. After it, the route and excursions are developed near you.
Why Rent a Party Bus for 40 Passengers
Suppose you would like to spend time happily and unforgettable. In that case, you should choose our 40 passenger party bus rental, because we promise you highly qualified personnel, safe driving, and we work at any time and weather.
People rent party buses in Chicago because they have various advantages like:
luxury exterior;
cool music boxes with DJ;
beverage holders everywhere;
Karaoke microphone;
two substantial television screens;
security;
floor for dance;
air-conditioner;
leather lined interior;
carpet on entry;
ceiling mood lighting floor;
lasers light;
the capacity of 40 people seaters;
the most delicate sound system;
climate control;
experienced driver.
You will never forget the time you spend with our Diamond buses and feel the benefits of our club on the wheels with the karaoke and bar.
How Much is a 40 Passenger Party Bus Rental Price
Our company offers you to buy the best party bus at a profitable price. We have an enormous range of modern vehicles. All of them are new, stylish, state of the art, and equipped with everything you wish.
Despite our superior service, our costs are the lowest, and if you find them lower, we will match and beat any competitor's quote.
If you choose a party bus like Diamond, give us a call. It's our job to make your night sweet for you. Call us right now! We can't wait to speak with you!
Benefits to Hire Diamond bus in our Company
We got a lot of positive reviews after using our transport from our clients. It helped us to improve our service every day. It also helped clients get an accurate portrayal of the quality of our vehicles.
Diamond standards limocoach experiences and intended for all events! You can contact us for more information and details of the reservation. With 40 seaters in limousine style comfort capacity, the Diamond can take you and all your friends. So when you wish to be driven by the Diamond, there's only one place to go. You can hire it at any time and get a special discount.
You should understand that going to the restaurant is old and not modern. The holiday can be everywhere you want. Our company will deliver holidays for you even to your home. Here you can feel yourself regardless and at ease!
Our company ensures that your rest will be unforgettable and pleasant for you and your guests! Choose a Diamond party bus, and you will look nifty among your familiars!