PHANTOM Party Bus – 40 passenger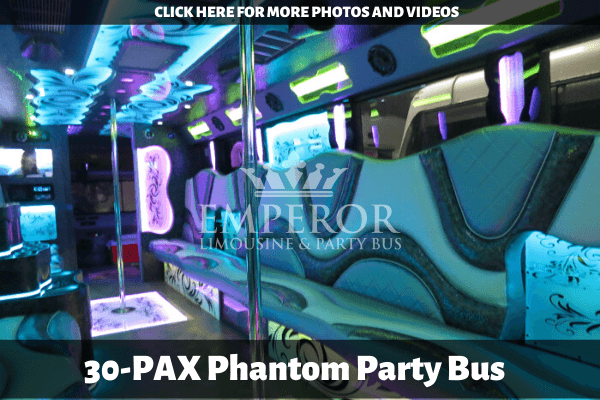 Outstanding Limousine & Party Bus Service at Competitive Rates!
Call Us Today for Quotes and Availability
630-383-4200!
Please take a look at our PHANTOM Party Bus! More photos and videos will be available soon, meanwhile,
please call us at 630-383-4200 and schedule a viewing in our showroom.
Dark, exotic, and luxurious – that's The Phantom. You can expect all of the latest technology, as well as an intimate seating arrangement so that nobody is left out.
Book The Phantom for your event!
Call Emperor today.
630-383-4200
Tour of The Phantom
Plenty of room: The Phantom holds up to 40 passengers. Even if you have a big party, you can all ride in a single party bus when you go with Emperor. If you have fewer passengers than that… well, that's just more room for you guys to party in.
Rectangular seating: the seating in The Phantom is arranged in a rectangle, so everyone in the party can see everyone else. This makes it feel like a true party, and not a room where everyone is separated into cliques.
All-encompassing, custom sounds: speakers and subwoofers lining the seats, walls, and ceiling. Delegate the task of music to someone and rock out during your entire ride. We feel obligated to tell you that in The Phantom, the sound can match that of an actual club.

Professional, yet fun: tasteful lighting and LED light displays mean that you maintain your cool while still having a blast.
Easy access to beverages: seating separated by a cooler (stocked by us with beverages – champagne, beer, water) and sturdy drink holders so you can put your beverage down as you please.
A real dance floor: porcelain tile floors combined with ample floor space (an entire four feet) means that you can get up and dance, if you feel so inclined…
The Phantom was custom made by one of America's largest party bus manufacturers. No one else in the United States has a party bus like this. When you choose Emperor, you don't get "just another party bus" – you get the best party bus currently available to the public.
Call Emperor Limousine. Book The Phantom.
Friendly staff and affordable pricing.
(630) 383-4200