Incredible 34 Person Party Bus for Rent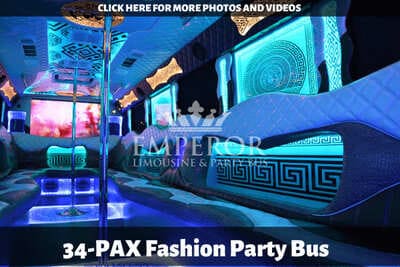 Outstanding Party Bus Service at Competitive Rates!
Call Us Today for Quotes and Availability
630-383-4200!
Please take a look at our FASHION Party Bus for 34 persons! More photos and videos will be available soon, meanwhile,
please call us at 630-383-4200 and schedule a viewing in our showroom.
These days you must not find a place to celebrate your holiday, because a disco bus will drive you! Our company has a wide range of choices, including the best 34 person party bus in Chicago.
A fashion bus is an excellent way to celebrate your life's best days. This transport is safe, unusual, affordable, and comfortable.
Call today to book The Fashion Party Bus
(630) 383-4200
34 Person Party Bus Amenities
Hiring party buses helps you to celebrate any holiday you want: birthday, teen disco, company meeting, and others. Such an evening will present you with unforgettable memories.
Party bus for 34 people possesses the most pleasant amenities like:
air condition;
disco LED light;
exclusive sound system;
multi laser lights;
dance pole;
double tinted windows;
USB ports;
aux cable;
Bluetooth;
esky and bag for ice for drinks;
zone for the rest;
bar counter;
wardrobe;
toilet;
DJ;
bartender;
excellent design;
some huge TVs;
heating system;
pole;
leather sofas;
smoke machine;
karaoke;
fridge;
photographer.
You will see a spectacular view through the windows when you drive by a party bus that fits 34 seaters.
Why Rent a Party Bus that fits 34 people
Using a party bus in Chicago area, you can celebrate different holidays, speak with your friends, rest after work, feel happy and have fun. It is better way to spend your time than going to a restaurant or booking obsolete limousines that are unmodern.
A lot of people prefer 34 passengers party bus rental because of the row following causes:
An excellent party bus you can order near you. You don't have to go far, all you need is to open your phone and choose the best transport.
All of our buses like Fashion are in the best state. You will get a new vehicle nearby your home.
Individual approach. Our company helps you to select the date, time, road of driving, design of the transport with live flowers and birds, service, food and drinks for an unforgettable celebrity.
Advantageous discount. Also, we will give you a discount on your next trip.
Plenty of places. Party buses in Chicago have a lot of free slots for dancing and a good atmosphere.
Special furniture. The fashion bus has a CD player, radio, laser light, and backlight.
Original. With a jeep or limousine, you hardly surprise someone, but with a Fashion bus, your guests and you will be excited.
These transports are the mini clubs on wheels, which are not worse than standard clubs and restaurants.
How much is a 34 Passenger Party Bus Rental Price
The cost of a Fashion party bus is beneficial and not very big. It is more profitable than spending money in expensive restaurants.
Our company offers you to rent a party bus in Chicago with all services and capabilities. We guarantee the low prices and an unforgettable evening for you.
If you choose the best variant from our site, you must leave your name, number, and phone number at the quote. If you decide on our buses, you will never regret doing it!