Incredible 30 Passenger Limo Bus for Rent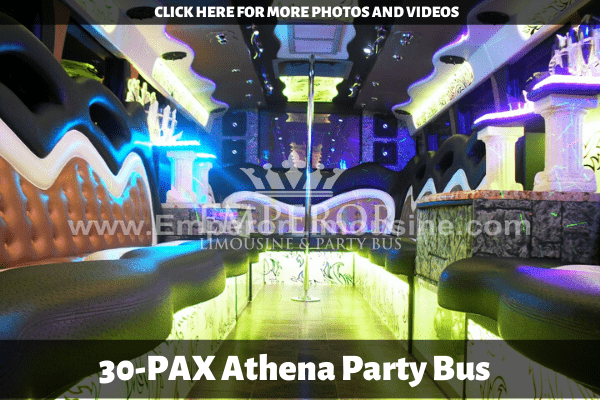 Outstanding Limousine & Party Bus Service at Competitive Rates!
Call Us Today for Quotes and Availability
630-383-4200!
Please take a look at our ATHENA Limo Bus for 30 passengers! More photos and videos will be available soon, meanwhile,
please call us at 630-383-4200 and schedule a viewing in our showroom.
Incredible 30 Passenger Limo Bus for Rent
Limo Bus Athena rental in the Chicago area is a disco club on wheels for holiday parties, corporate events, weddings and anniversaries, stag, and hen parties. By ordering a 30-person limo in Chicago, you will unite 25 to 35 people in one place and plunge into the atmosphere of a club on wheels. It saves money (it won't cost you a fortune) and time in choosing an option for a unique pastime, and you enjoy the city's panorama.
Book The Athena – Call Emperor!
Friendly and helpful booking agents.
(630) 383-4200
Why Rent a Limo Bus for 30 Passengers?
An ordering party bus near you is the best way for a bright, incendiary party on wheels. Booking a club vehicle is easy. You set the time, and the hired car will meet you at any specified location. A few hours of carefree fun are waiting for your whole company!
You can arrange a ride around the night city for you two, gather close friends for an unforgettable birthday, or surprise your colleagues with an original corporate party! It can be a single event where the rented bus with a driver is used for the party 100% of the time. Instead of getting bored traveling between nightclubs, you can make the most of this time on the party bus. Besides, you could rent a bus with a driver for a children's party to combine its central part and excursions to exciting places.
Call Emperor to book your ride.
Party buses that never compromise.
(630) 383-4200
30-Passenger Limo Feature
Our company offers to order a party bus limo for 30 people. The rental of such vehicles is top-rated among young clients. The comfortable salon is made in combined colors and provides a convenient location for a large company of up to 30 guests on comfortable chairs. Your friendly team will have a great time in this 30-seater limo bus thanks to the following options:
disco floor with a dance pole,
laser show,
LED lighting on the wall and ceiling,
smoke machine.
There is everything for an incendiary party. Your guests will feel like they are in a real bar. A bar with beverages, ice, glasses, and wine is at your service. You can order fruits and snacks in the salon by agreement with the managers.
Do not worry about getting hot in a limo bus that fits 30 seaters. Built-in climate control will provide a comfortable temperature. There is also karaoke, USB, AUX, CD, DVD, and MP3.
30-Passenger Limo Bus Amenities
In these vehicles, everything is thought out to the smallest detail. Neither you nor your guests will have to worry about how to charge the phone, play your favorite music, and so on. The bus and SUV limos are already equipped with:
30 seats;
comfortable leather sofas;
DJ table;
toilet room;
VIP room, wardrobe;
Plasma TV 50″ and 2 plasma TVs 20″.
The interior of the bus has a designer print and trim. Seats are made in three colors: black, pearl and gold. A built-in sound system with 8 speakers and 8 subwoofers will create the atmosphere of a real club. In addition to limo services, our company offers to hire a DJ and a bartender.
How Much Is a 30 Passenger Limo Rental Price?
We strive to make incendiary parties accessible to everyone without losing the quality of services. Therefore, we have been leaders in the field of 30-passenger limo rental for many years. Here you can rent a party bus with a designer interior and a full range of amenities at an affordable price. Specify the exact quotes with the manager. The procedure for renting a chic-bus is simple:
Decide on the number of guests, the party's program, and the route.
Our manager selects the best party bus for your purposes.
We sign a contract, and you make an advance payment: 30-50% of the order value.
At the appointed time, the party bus arrives at the place of the order.
You pay the remaining cost.
Enjoy a party at a chic club on wheels.
Call us or fill in a particular form on the website (you don't have to apply to a nearby office). Our managers answer any of your questions. Call to arrange!
The Athena Limousine Interior Video
FAQ
How much does it cost to rent a limousine for 30 people?
Rent cost of a 30 Passenger limo in Chicago, IL and nearby varies. Let us know the number of the partiers, the time of rental and any other wishes you have.
What is included in a 30 passenger limo bus?
Hiring a 30 passenger limo includes a smoke machine, laser show, dance pole, disco floor and LED lighting.
Does a 30 person limo have wifi?
WiFi is available on all our rented party-on-the-wheels items.
Is a 30 person limo bus worth it?
If you want to have unforgettable memories and surprise your guests with quality and fun – than yes.
Do you provide after-hours service?
Sure, everything is negotiated while ordering and will be included in rental price.