Incredible 36 Passenger Limo Bus for Rent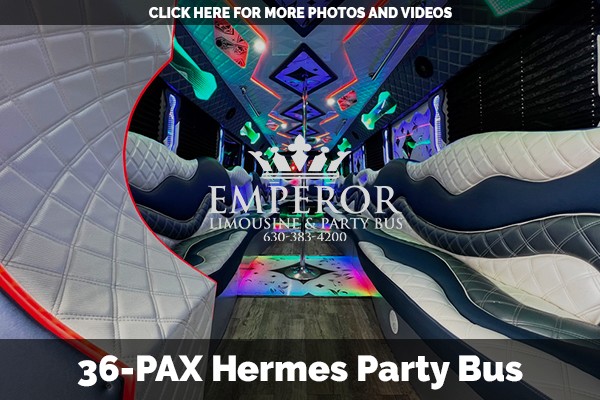 Outstanding Limousine Service at Competitive Rates!
Call Us Today for Quotes and Availability
630-383-4200!
Please take a look at our HERMES Limo Bus for 36 passengers! More photos and videos will be available soon, meanwhile,
please call us at 630-383-4200 and schedule a viewing in our showroom.
Incredible 36 Passenger Limo Bus for Rent
Are you struggling with choosing a venue for a memorable party? Your problem is solved: the holiday is coming to you and will take you all over the Chicago area! A luxurious 36-person limo in Chicago will give an unforgettable party at a reasonable price!
Call today to book The Hermes Party Bus
(630) 383-4200
Why Rent a Limo Bus for 36 Passengers?
Organizing a colorful event for a large company is not difficult. Party limo services (near you) are suitable for adult gatherings and children's parties. Party-goers will get an unusual and bright holiday that will be remembered for a long time.
SUV limos are excellent because of:
More space. You can not only chat with friends but even dance.
Special equipment. A stereo system with laser equipment and special lighting is provided here.
High level of comfort. A modern party bus has comfortable seats, a high-security system, a bathroom for the convenience of vacationers, and an air conditioner.
Affordable prices. 36 passenger limo rental is more profitable than several limousines.
Flexible lease terms. You can hire a bus per hour or day.
Originality. Limousines, huge jeeps, and even horse-drawn carriages will not surprise anyone. You can be 100% sure – no one can imagine a more exciting celebration.
36-Person Limo Amenities
Everything is thought out to the smallest detail. The interior of the HERMES bus is divided into three main areas:
a sofa or seating area;
a stage for disco and performances;
a bar counter.
There is also a DJ console, karaoke, and speakers for club parties. You can refresh yourself with juice and order a cocktail or a cup of ice cream at the bar counter. A 36-seater limo bus is equipped with a mini fridge and a sink. 
Several TV panels are installed inside. You can watch movies, clips, or videos. A smoke machine and a bubble generator are responsible for special effects like in a nightclub.
How Much Is a 36-Passenger Limo Rental Price?
We have party buses for every budget. Renting a limo for 36 people won't cost a fortune. We want everyone to be able to fulfill their dream. Leave a request on the website and get great quotes. Now our clients don't have to look for an office nearby. Everything is done online.
FAQ
How much does it cost to rent a limousine for 36 people?
It's quite affordable in Chicago, Il feel free to contact us.
What is included in a 36 passenger limo bus?
The rent includes: a disco stand for performances, a sofa, a bar counter.
Does a 36 person limo have wifi?
Of course, it's not included in the rental price!
Is a 36 person limo bus worth it?
It's the best for a large company in the nearby area.
Do you provide after-hours service?
Just let us know – sure, we are the ones to be hired!