Incredible 30 Person Party Bus for Rent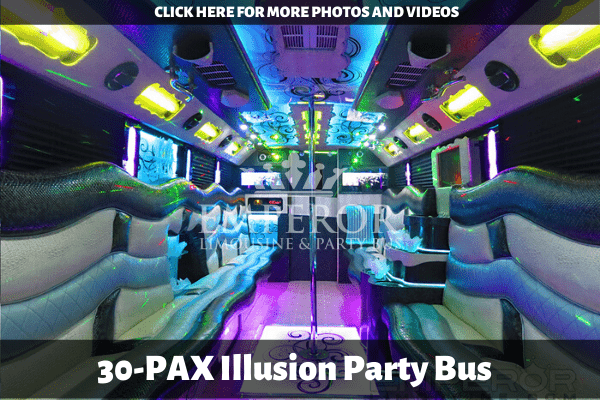 Outstanding Limousine & Party Bus Service at Competitive Rates!
Call Us Today for Quotes and Availability
630-383-4200!
Please take a look at our ILLUSION Party Bus for 30 passengers! More photos and videos will be available soon, meanwhile,
please call us at 630-383-4200 and schedule a viewing in our showroom.
Incredible 30 Person Party Bus for Rent
Fantastic party, unforgettable impressions – this is modestly said when it comes to an ILLUSION 30-person party bus in Chicago. Limo bus (limo bus or limo party as you like) is a limousine in a bus version. Luxury comes from a limousine. The spacious interior is from the bus. Its internal dimensions are unexpectedly more spacious than they seem from the outside. It can easily accommodate up to 30 people. Our vehicles are at your service nearby if you want to have an unforgettable event.
Call today to book The Illusion!
(630) 383-4200
Why Rent a Party Bus for 30 Passengers?
For many people, a 30-seater party bus remains exotic and unknown. However, it is a growing trend. More and more young people are choosing chic buses for their parties. And it is not surprising because it is a spacious car that can accommodate up to 30 people, which makes it possible to create a real party on wheels. The salon of the limousine is decorated with high-quality materials in a modern style and gives passengers a lot of amenities. It is worth renting such a party bus for 30 people for the following reasons:
Designer interior and great decorating possibilities in any style.
Polite and friendly drivers with extensive driving experience.
Security of all systems, checking before and after each flight.
Favorable conditions, loyal prices for rent per hour or with a round-the-clock rental.
Flexible and affordable prices of transport services with a driver.
Impeccable quality of service, delivery 15 minutes near you before the rental time.
The ILLUSION party buses in Chicago have a unique appearance. The bright and stylish interior of the car will decorate any holiday, especially a stag or hen party. When it drives on the roads of the Chicago area, it is impossible to pay no attention – it is exclusive.
Custom manufactured for Emperor!
Call to book The Illusion for your event!
630-383-4200
30-Passenger Party Bus Feature
A long chic party bus that fits 30-seaters is associated with wealth and luxury. The car is suitable for any holiday event. The disco bus will take you through the busy streets of the city. And, at that time, the disco will continue inside it. The electronic music filled with lighting effects would be enough for several discos.
Neon chameleon lights turn the salon into a night VIP club. The entire interior is decorated with LED lights and spotlights. You can create both a bright club atmosphere and a romantic one. Powerful amplifiers and subwoofers enhance the club effect. Video clips follow each other on a giant plasma screen.
The mood will become even more festive if you pay attention to one of the two bars: fruit and champagne in a bucket with ice. A light buffet – there is just enough for a fun party. Fun without strangers or the routine of everyday life, which rushes just twenty centimeters outside a limousine window, adds sharpness and a taste of unreality to what is happening.
30 Passenger Party Bus Amenities
Such 30-passenger party bus rentals for events have become popular due to their comfortable conditions. They are distinguished by a high level of service and attention to detail. The buses are equipped with:
air conditioning,
soft leather seats,
sockets,
Wi-Fi, USB,
climate control system.
There is also a toilet room. So you do not have to stop on the way and look for a bathroom. You can arrange parties at any time of the year because the manufacturers have thought out the wardrobe. If you ride a party bus from one place to another, you won't have to freeze when you get out of the car.
Everything is real – club music, illuminated POLE DANCE, a pair of poles for stability. The driver is isolated from the party partition. There is an intercom for communication with him. Besides, you can hire a DJ and a bartender who will care about the convenient atmosphere.
How Much is a 30 Passenger Party Bus Rental Price?
Use this unforgettable chance – rent a party bus in Chicago. Have a great time!​ Our company offers to have an ILLUSION club bus for 30 seats for any period: hour or the whole day. The vehicle is often rented to celebrate birthdays, weddings, graduations, and corporate parties on the New Year.
Renting a club bus will allow you to have an unforgettable party with dancing, music, and a walk through the night of Chicago that will cost you reasonable money and much cheaper than visiting several clubs per night. To get advantageous quotes right now, leave a request using the form on the website or call by phone.
Want a tour?
We have pictures of The Illusion on this page, but really, only so much can be captured through photography. If you'd like, call us to schedule a viewing of our entire fleet. You can see the Illusion in addition to all of our party buses so that you find the perfect one for you.
FAQ
How much does it cost to rent a party bus for 30 people?
Rental price for a 30-person party bus in Chicago, Il and nearby area depends on the other services you might want to order and the time of rent.
What is included in a 30 person party bus?
WiFi, AC, sockets, USB and soft leather seats are at your disposal.
Does a 30 seater party bus have wifi?
Hiring us, yes, of course.
Is a party bus that fits 30 passengers worth it?
Unforgettable fun and comfortable journey is waiting for you.
Do you provide after-hours service?
Everything is negotiated.