Outstanding Limousine & Party Bus Service at Competitive Rates!
Call Us Today for Quotes and Availability
630-383-4200!
Party Bus Naperville by Emperor Limousine
Emperor Limousine provides party bus services in Naperville, IL and surrounding suburbs.
If you are looking for a brand new, loaded with amenities party bus in Naperville, IL just call us at 630-383-4200 and we will be able to provide you with quotes and availability!
For our Naperville customers we provide party bus services for weddings, parties, proms, sport events, concerts, and many others.
We have a wide variety of Naperville party buses to choose from such as the the Venetian, Platinum, Titanium and many other buses.
An extraordinary event requires a special place. Rent a party bus in Naperville to make it go perfectly. We provide luxurious services at reasonable prices and at the highest level. Since 2007, Emperor Limousine has provided guests with not just rides but with a unique experience.
About Our Party Buses Rentals in Naperville
Emperor Limousine is not just a provider but a professional celebration organizer. We take all tiny details under control. With a skilled manager around always, you don't have to care about that mess and get nervous. Relax and prepare for a hilarious night out! Managers prepare scenarios for the most popular events, such as:
Do you have an extraordinary idea for your ride? Let's create a unique design for it together!
Emperor Limousine owns a large fleet with 12 different party buses available. Here is why we are proud of it so much:
each vehicle has a unique design, suitable for various kinds of events;
robust sound systems and LED TVs are waiting inside;
all buses are new, completely safe, and insured;
a range includes small, medium, and large buses.
Emperor Limousine provides a chauffeur for each client. For the high-class experience, we hire only professional drivers with years of practice. They know all roads in Naperville and the area nearby. Be assured that they'll provide you with the most pleasant ride ever. Of course, they'll take you and your guests to fascinating locations. Will it be a planned route or a spontaneous trip? Go ahead and choose!
Naperville Party Bus Service Prices
We don't set a fixed price because it doesn't seem fair. Every celebration has unique needs, and the cost is individual every time. It depends on:
the bus size;
the number of guests;
time of the travel;
optional party bus services you decide to include.
Our prices are always all-inclusive. Emperor Limousine doesn't hide extra payments and services you've never bought. It makes us the most affordable party bus rental in Naperville, Il.
Do you want to start discussing a party? Please leave free quotes and write some details. A manager will contact you back to talk about all details.
If you're having a birthday party in Chicago and traveling in a party bus from Naperville, call us for a quote! Naperville, IL is a perfect location to start and go to Chicago, since it's located around 30 miles from the city. When you will use our party bus Naperville service you will find that our party bus rates are some of the cheapest around.
Also, if you need party bus Naperville service, you can always stop by our office in Addison, IL which is only 20 minutes away from Naperville. Here you can check out the exact party buses that will be picking you up on the night of service! We provide only the highest quality vehicles that will make your party bus experience an amazing one!
Our Fleets
Please rest assured that you will receive the best experience if you go with our party bus Naperville service. Our fleet consists of 10 customer built, high end party bus limousines that will rock your party! They are elegant, new, fun, and exciting party buses that you will remember for a long time! Also, you will be impressed by our chauffeurs who are professional, on-time, safe, and courteous.
To receive a quote and availability for your party bus event, please call us at 630-383-4200!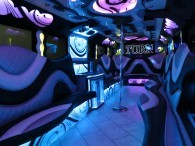 FAQ
How much does it cost to rent a party bus in Naperville?
You will not find more affordable rental prices in Naperville, Il.
What is included in a party bus in Naperville, IL?
A seating area and sofa, bar counter and disco performance stage.
Where to rent a party bus in Naperville?
Emperor Limousine & Party Bus is always nearby.
Do you provide pick up and drop off services?
Sure, hiring us, you will receive it.
Do you provide after-hours service?
The rent will depend on this, but sure!