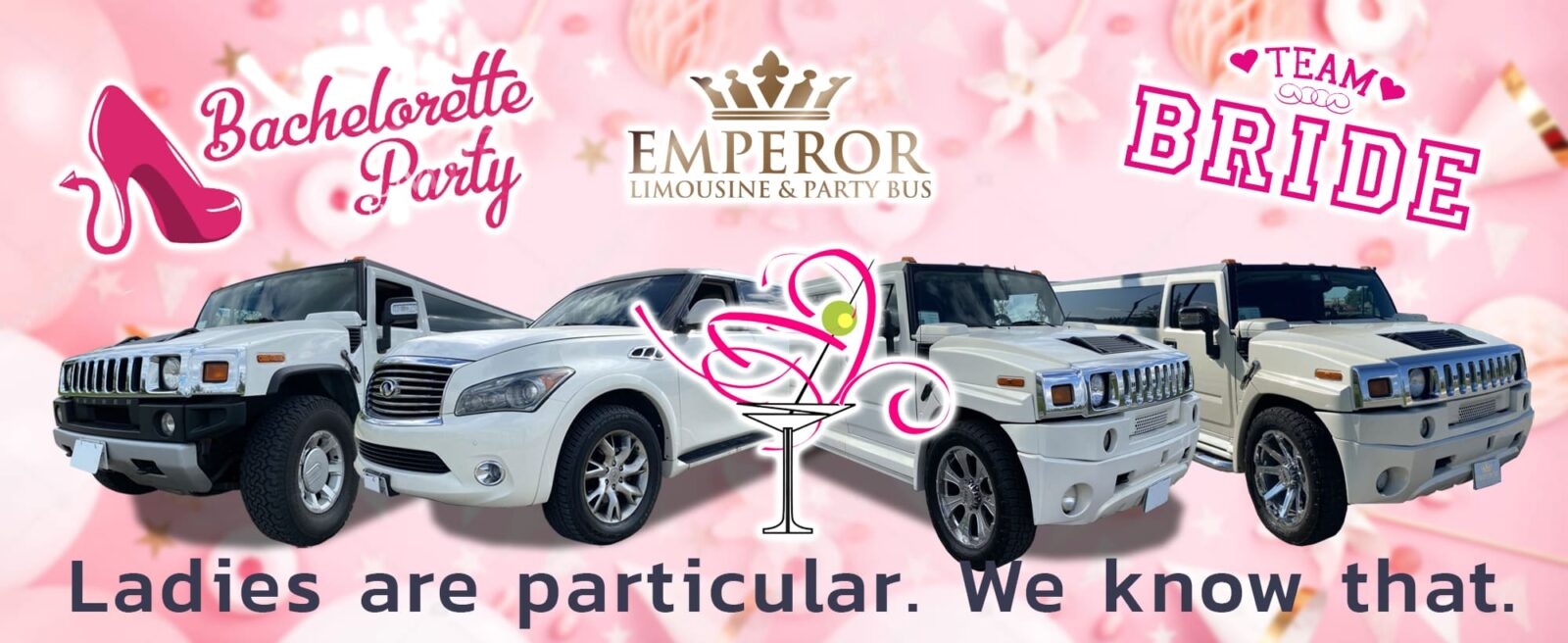 A wedding is a beautiful day, one of the most important in many people's lives. Emperor Limousine wants clients to have only pleasant memories about it. We have skills in organizing various arrangements, and of course, we provide a bachelorette limo in the Chicago area and nearby. There isn't a better party of best friends than having a ride across the best Illinois, Chicago area clubs while enjoying a luxury vehicle and stunning views of the night megapolis.
Our Fleet of Limousines for Bachelorette Party
Our range of SUV limos includes luxury models fitting for a large, fun, partying company. There are three different variants available:
Pearl Hummer H2;
Hummer H2;
Infiniti QX56.
Each component of our limo service for bachelorette parties suits 20 to 25 passengers. This number can be placed inside with comfort and fun, unstoppable for the night without crowding.
Each limo has sun and moon roofs and black tinted windows to give you the highest privacy level. You'll find heating and conditioning systems and a mini-bar to keep the atmosphere chill, and hours of dancing will feel comfortable.
Why You Need to Rent Bachelorette Limo in Chicago
Limousines have always signified the highest status. When you rent a limo for a bachelorette party, you upgrade the level of your celebration and show your attitude toward your dearest guests.
Nothing is better than a ride on a luxury vehicle in preparation for a party of the year. Limos can accommodate much more people than a car, so your guests will have a chance to get to know each other before the arrangement starts. With our limo service in Chicago near you, all passengers sit in a relaxing atmosphere and find connections even if they've never met before. 
Another reason is a top-class driver service. All drivers of Emperor Limousine know the IL, Chicago area like nobody else. They can lead your group to the clubs of best rates, shops, and sights for photos. Drivers will take care of building the way, parking, and all that nervous stuff. No one from your company will be distracted by driving, and your route will be safe & sound. 
So, limo rentals are almost necessary to celebrate an extra class. We guarantee that your company will feel like queens of the world with our bachelorette limousine rental in Chicago, IL. 
Bachelorette Limousines Amenities
Regarding bachelorette limousine amenities, we cannot mention everything in a minute. The service by Emperor Limousine is a turnkey offer. Our clients receive much more than luxury vehicles. When passengers enter our limos, they feel like they are in the best Chicago clubs. Each limousine in our fleet offers you the following:
powerful sound system, WiFi, Bluetooth, and LED TVs;
LED disco lighting;
custom interiors consisting of natural leather and shining tiling;
unique one-of-a-kind design;
rest zones with comfortable sofas.
Every order includes a flawless chauffeur service with a route planned. Your party ride will have a perfect scenario to please all guests. We also supply our guests with champagne, cold drinks, and light snacks.
How Much Does It Cost to Rent a Bachelorette Limo?
The cost to rent a bachelorette limousine is individual, and we always discuss it personally with our guests. You can contact us via email, mobile phone, or visit our Chicago office. In a personal dialog, we will discuss your needs, expectations, and the number of services you want to receive.
The final cost will depend on when you hire a limo and the chosen services. Additionally, we can offer you a photographer and a custom drink & snack choice if you mention it.
We strive to be fair with our customers in all aspects. You'll never pay for unknown and useless services, and your receipt will include a detailed explanation of your order. Your budget is also important to us, and we can always help with the perfect configuration at an affordable price.
The Emperor Limousine team has years of experience in organizing significant events of different kinds. You can safely rely on us in all details and be sure that your evening & night will be perfect.
We kindly ask our guests to start planning their arrangements, so we can spend enough time discussing specifics and figuring out the perfect partying scenario. Fill out the contact form to get free quotes.