Stretch Limo Hummer H2 for Rent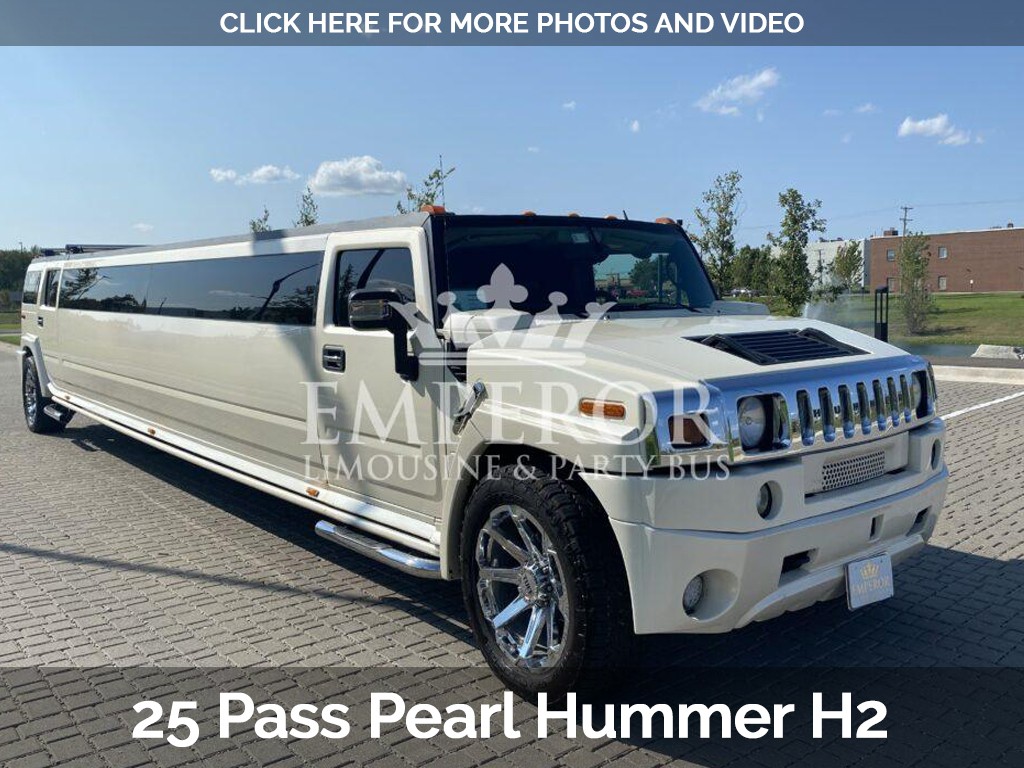 Outstanding Limousine Service at Competitive Rates!
Call Us Today for Quotes and Availability
630-383-4200!
Please take a look at our 25 Pass Pearl Hummer H2! More photos and videos will be available soon, meanwhile,
please call us at 630-383-4200 and schedule a viewing in our showroom.
Stretch Limo Hummer H2 for Rent
A limousine is one of the types of cars that arouses the interest of majority and attracts genuine attention. Surely everyone dreamed of taking a ride once in such a stylish car, or at least just look inside and find out what is in the cabin.
Hummer h2 limo service feature
Are you planning a party that will be attended by very important people for you? Or maybe you are planning a wedding, a bachelor party that will last all night? Then the ideal case for you would be to rent a limousine. Limo Hummer H2 is a great way to spend comfortably a festive night at affordable prices. People choose us because they are confident in the quality of our services, as you can see by reading quotes about us.
We have the most favorable rental conditions in the nearby area. We care about the comfort of our customers. So we carry out regular technical inspections of vehicles and provide dry cleaning of the interior after each order. Be assured that it is clean and safe.
Why Rent a Hummer limo?
Suv Limos rental has gained popularity due to the conditions provided by the company and prices that are much more profitable than buying a night in a club or restaurant.Renting a Hummer limousine is a great way to spend a holiday on an exciting trip with a group of friends and relatives. This type of transport is suitable for all kinds of holidays – from large-scale weddings to spiritual trips and trips with loved ones. Every person interested in the Hummer limousine rental service should know that this is not only a good way to spend time, but also one of the most comfortable ways to travel with a large number of people. The limo's interior is quite roomy, and a professional driver will make the trip as pleasant as possible. Hummer limousine rental is the choice of the large number of users across the country, it's a great way to celebrate the holidays.
Hummer limo service in Chicago. The bright and stylish interior of the car will decorate any holiday, especially a bachelor or a hen party. Traveling through the streets of Chicago, people will not be able to ignore you, your car is unique.
The dimensions of an SUV hummer limo are: 4820 x 2063 x 1977, so you can gather a lot of people near you.
Stretch limousine hummer H2 amenities
Cars of this type have become popular due to their quality, design and focus on passenger comfort. These limousines have:
air conditioner
air freshener humidity
and dryness control of the room
high-quality lighting
comfortable furniture
This car is equipped with a toilet, and you do not have to stop the car. You can hire an additional decoration of the interior, the appearance of the car, a photo shoot or a DJ who will take care of the atmosphere. Having agreed with us, you can choose some of your own services that our company does not provide, but it will affect the cost to rent a hummer limo.
How Much is a hummer limo Rental Price?
This car is unique in the convenience it provides to passengers. It's almost a room on wheels with a carefully designed interior, toilet, lighting, comfortable seats, climate control system, Internet and other human needs. Our limo service sets its limousine renting price for a specific time. For an ordinary party, just a car is not enough, often people order additional services. You can order a driver, photographer, DJ or anyone else. Even if you choose the full set of all complements, the price will remain affordable.
The rental price is calculated based on several factors:
Number of people
Rental time (our limo service can be rented for just one hour, but the most affordable time starts from 3 – 4 hours)
Additional services (photographer or driver, for example)
Limo services
In addition to a very beautiful trip, the limo service solves random minor problems that may arise during the party.
Complementing separate services, our company often sells a set at once, for example, providing access to a room, a reserved table.
In addition to Hummers H2, our company provides Stretch limousines that are not inferior to the previous one in comfort and quality of service, but have their own qualities.
At the request of the customer, our company can provide Stretch Hummer Limousine at a pre-agreed price.
To get more information about us – leave a request in the form on the website or call us by phone.