Incredible 20-PAX Stretch Hummer H2 Party Bus for Rent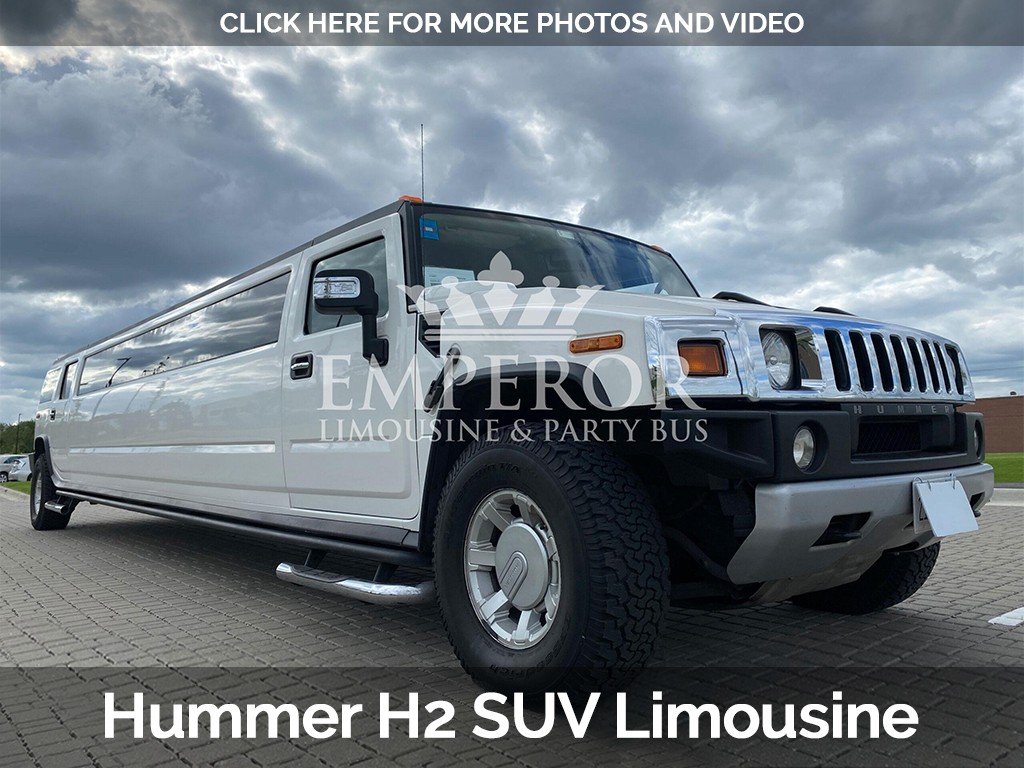 Incredible 20-PAX Stretch Hummer H2 Party Bus for Rent
Outstanding Party Bus Service at Competitive Rates!
Call Us Today for Quotes and Availability
630-383-4200!
Check out our 20-PAX Pearl stretch Hummer H2 and appoint a viewing in the Chicago area showroom to see what we have prepared for you inside the cabin with your own eyes.
Why Rent a stretch hummer?
Renting a stretch hummer in Chicago revs into gear because of the conditions our company provides. Having your party in a 20-PAX Pearl Hummer H2 is more affordable than a celebration in a restaurant or hiring a nightclub. A stretch hummer can be used for any kind of party, from spiritual rides with your close ones to large wedding parties. Our service lets you take your relatives and friends on a blood-stirring holiday.
That said, it is also among the most comfortable ways to travel with a group of people. There is enough room for each person inside this party wonder. The seats are clean and comfortable, with enough leg room for everyone.
Stretch Hummer H2 service feature
We work with professional drivers only who will make your ride 100% pleasant. They are always on time. It's trendy to hire a stretch hummer in the Chicago area as well as in other parts of the country.
All our limousines are stylish, so you will not have to worry about your photos and video. They will be cool anyways and warm your heart as a remembrance of an outstanding holiday. Our service is suitable for hen and bachelor parties, graduation and birthday parties, casino events and proms, weddings and dates, and corporate and school dance parties.
Since our stretch hummer party bus is very stylish, people in the streets will definitely pay attention to your trip. If you are planning a festive night and looking for quotes near you, you can be assured that our rates are affordable and our service is the best nearby. Our service is a combination of loyal cost and high-end quality because our main priority is seeing our clients satisfied.
Our company cares about your comfort and safety. All our autos are technically inspected on a regular basis. The interior is always clean and fresh since we take care of this after every order.
Amenities in Our 20-PAX Pearl Stretch Hummer H2
All our limos are designed to be comfortable and stylish at the same time. Our Stretch hummer h2 Amenities boast with:
comfortable and clean furniture;
air freshener humidity;
control of dryness;
air conditioning;
high-end lighting;
the Internet.
Everything is appropriately montaged to get the most out of it. We focus on the comfort of our customers. It is possible to ask for additional decorations for the hummer's interior and exterior. Moreover, you can order a DJ to take care of the party atmosphere and a photo shoot for the best memories. In case you do not find the desired one in the list of our services, you can agree on the issue with us and choose some of your own services for an affordable cost.
How Much is a Stretch Hummer Rental Price?
You are probably interested in how much this pleasure on wheels will cost you.
First, the price is set according to the rent time. Secondly, ordering a stretch hummer for a party, you will probably want to order additional services (like a photo shoot, a DJ or decorations) that will add to the price. Nonetheless, even having ordered the full set of our services, you will still see that the cost is adequate.
These are the base factors that influence the price:
rental time;
number of passengers;
additional services.
Our limos can be hired even for an hour. Please note that the most affordable quotes start from 3-4 hours.
Each client can either get their quote remotely via the Internet or phone or visit our splendid auto park to see our party buses in Chicago. We provide free quotes; all you have to do is to fill out a special form on our site. It will contain the following data:
your name;
contact numb;
e-mail address;
date;
quantity of guests;
type of event.
The cost to rent a stretch hummer will be calculated by our friendly and attentive staff, and you will be ready to order.
If you need more information about our 20-PAX Pearl Hummer H2 or about our services, get in touch with us, and we will tell you everything. Surprise your guests and make your party inerasable!