Incredible Infiniti Limousine for Rent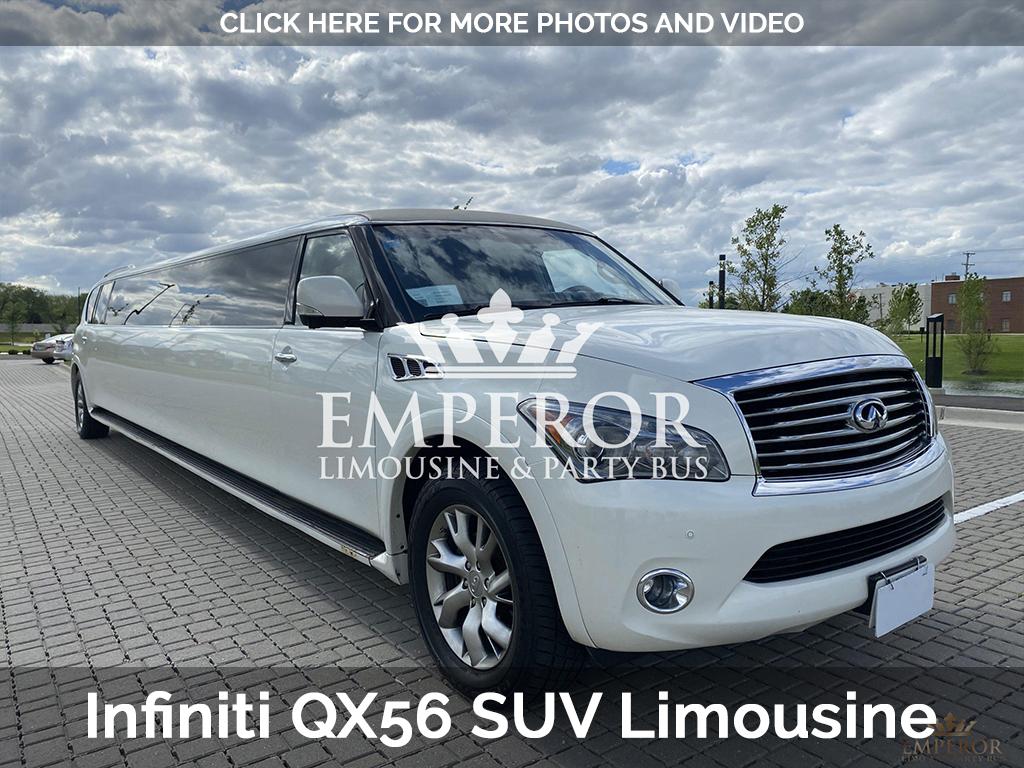 Incredible Infiniti Limousine for Rent
Outstanding Limousine & Party Bus Service at Competitive Rates!
Call Us Today for Quotes and Availability
630-383-4200!
Powerful, elegant, spacious, stylish, and roomy – it's about renting a white Infiniti limousine. Infiniti limousine is distinguished by its presentable appearance and elegant interior. It can impress not only the guests of your celebration but also those around you. You can order a spectacular iron horse from Emperor Limousine Company. Our team offers limo services and party buses in Chicago nearby for weddings, corporate parties, birthdays, and dates. You will be satisfied with the level of service and security at prices.
Please take a look at our 20-PAX Infiniti QX56! More photos and videos will be available soon, meanwhile,
please call us at 630-383-4200 and schedule a viewing in our showroom.
Why Rent an Infiniti Limo?
Since their first appearance, many have associated limousines with luxury and wealth. And all because quite wealthy and successful people can afford to drive such cars. However, even ordinary people want to feel like a celebrity for a short time. And there is such an opportunity today because you can simply rent a limousine at Emperor Limousine Company (near you) for a specific time, and you do not have to spend much money to buy such a vehicle.
A service such as a limousine rental may be required in various cases. They are often booked for business trips and special occasions but can also be used for ordinary walks. Our clients could book limos for:
wedding limousines,
business travel,
birthday parties,
discharge from the hospital,
party in a limousine,
prom,
an excursion around Chicago.
A simple trip on such a vehicle will bring a lot of positive emotions into your life. Also very often such vehicles are used for wedding celebrations. If you rent just such a car for a wedding, then the wedding will be bright and memorable.
Infiniti Limo Services Feature
Infiniti limousines in the Chicago area are ideal for organizing weddings, anniversaries, and other celebrations.
The spacious interior of such a VIP car can comfortably accommodate up to 20 people. Guests can get to the place of celebration and start celebrating on the road and having fun.
The interior of each Infiniti limo from our fleet has an exclusive design.
Limousine Infiniti QX56 has the following set of options:
panoramic side windows;
furniture and upholstery made of combined leather;
Touch Screen internal management system;
the illumination of interior elements and bar;
modern audio-video-stereo system;
Some models of the Infiniti QX56 limousine are equipped with strobe lights, lasers, and private partitions.
Stretch Infiniti Limousine Amenities
All celebration participants will be delighted with the trip on this stylish Infiniti limousine. The limousine is designed for 20 persons and has excellent equipment for a party on wheels:
AUX, USB, DVD, MP3, CD,
karaoke,
monitor,
air conditioner,
a massive bar with a set of dishes, ice cubes, and glasses for drinks,
disco floor and ceiling,
disco light diode and laser effects.
Hiring a white Infiniti limousine is an excellent option for a crowded wedding. In this Infiniti party bus, all passengers will be able to feel comfortable, convenient, and safe. The Infiniti wedding limousine is a snow-white giant that can be proud of its interior and options.
Infiniti Limo Services in Chicago
Our team cares about clients and their convenience. Therefore, we offer not only booking party buses and limousines, but also additional services. We can fully organize the event. Our specialists know reliable and professional confectioners, DJs, bartenders, shops with decorations for celebrations, florists, and other experts. In addition, you can order the following services from us:
driver,
DJ,
photographer.
You will get a well-organized or corporate party, dinner where you will only think about how great you are having a good time. We take care of all the chores about the script timing and organization.
How Much is an Infiniti Limo Rental Price?
Arrange a party or an anniversary of the century – order a limousine from the Emperor Limousine Company. Experience first-class service by Hollywood standards. Limousine Infiniti QX56 can be rated at any convenient time: from an hour to several days. Whatever period you choose, the cost to rent an Infiniti limo will be acceptable. It is much more profitable than renting several cars for 20 people.
In addition, we have advantageous rates depending on the number of additional services. The more you order from us, the more profitable the cost. Get cool quotes, leave a request on the website or contact us via WhatsApp.
FAQ
How much does it cost to rent an Infiniti limousine?
The price of renting a limousine Infiniti QX56 depends on several options. We take into account the number of hours or days and additional services. The more services you provide, the more profitable the rental becomes. Just call us.
What is included in the Infiniti limousine service?
We offer rental with various additional services of your choice. We want to guarantee you a quality and pleasant stay. Therefore, you can order a limousine and a driver, photographer, and DJ to accompany your holiday on wheels.
Does the Infiniti limousine have Wi-Fi?
If you've rented our Infiniti Limo to explore the nearby area in Chicago, IL, you can enjoy WiFi throughout the journey. Plus, there is always the opportunity to turn on your music and clips. They will be broadcast through the built-in monitors. You can use AUX, MP3, USB, and CD.
Is the Infiniti party bus worth it?
No doubt. A limousine is not just a hire car. It's a real party on wheels. You will never forget this adventure. Renting prestige is not only based on impressions and memories. It is also a financial benefit for you. Contact us to rent the car of your dream.
Do you provide services outside business hours?
If you want to extend your party, we are always ready to help you. We will provide all necessary services. You only need to visit us twice – before and after renting. The entire range of services is available. And our Infiniti Limo is always ready to go.