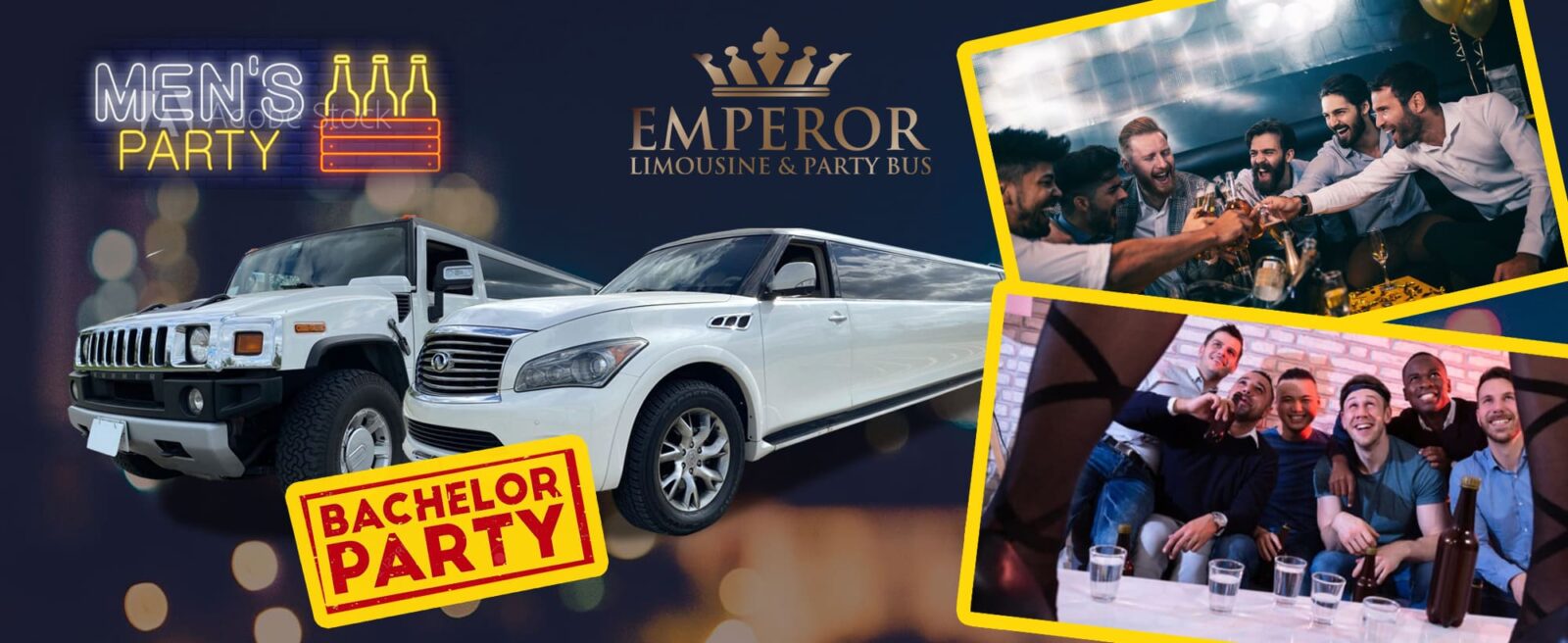 Ideas for a bachelor party can differ completely. It depends on how you want to spend this day. Do you not want any platitudes? We offer the most exciting and ideal option – a limo rental for a bachelor party in Illinois. At Emperor Limousine, you can order a cheap limousine to have a great time, comfortably riding around in a bachelor limo in the Chicago area.
Why You Need to Rent Bachelor Limo in Chicago
You should stay mobile to visit as many events, restaurants, and nightclubs as possible. It is easy to do in the company of 3-4 friends. But a bachelor party is the courage of at least a football team. So, ordering a limousine to travel around the city at night during a celebration is the best solution regarding comfort, capacity, and price.
We offer to rent a limousine for a fun bachelor party! All night at your disposal – a professional driver, modern music, champagne, and the whole Chicago area, IL!
Do you want to arrange the last bachelor party to get off to the fullest and get the maximum positive charge? For your gala event to be held at the highest level, you must pre-select a car that matches the style of your pre-wedding party. We have a large fleet of limousines for a fun company with up to 30 passenger seats.
A bachelor limousine rental in Chicago, IL, is an excellent idea for the following reasons:
All cars have comfortable, original, and exclusive interiors.
There is an atmosphere of relaxation in roomy SUV limos for extreme trips around the city at night.
We can organize a bachelor party in any style.
It is a convenient and safe way to transport guests to events. You can start the party already in the car.
Holding a bachelor party is a duty of friends, which the groom must fulfill before the wedding celebration. Cooperation with a responsible and experienced company nearby will make this day memorable and happy without unpleasant surprises.
Our Fleet of Limousines for Bachelor Party
We have collected the best cars for special occasions in our garage at affordable prices. We work with well-known brands that have earned the trust of customers. You can choose any option in the car park:
25-PAX Pearl Hummer H2;
20-PAX Hummer H2;
20-PAX Infiniti QX56.
Also, our limo service in Chicago includes party buses in any design for 30 to 40 people:
HERMES Party Bus – 36 passengers,
PHANTOM Party Bus – 40 passengers,
VENICE Party Bus – 34 passengers.
Contact us in any convenient way or apply to an office near you and describe what you expect from your event. Our managers will select the most suitable option. 
Bachelor Limousines Amenities
This event is bound to be unforgettable bright, and memorable. To break away on this day to the fullest, you can rent a limo for a bachelor party in our company. Our well-equipped limousines will perfectly fit into the atmosphere. You and your friends will appreciate the dignity of the limousines offered to you. We guarantee comfort and a good mood. 
There is everything inside that young people adore:
audio system with excellent sound quality and good music for a great mood of the company;
video equipment;
LED Disco Lights;
a full bar of champagne, soft drinks, strong cocktails, and snacks;
air conditioners;
leather armchairs and sofas;
karaoke.
You will enjoy the company of your friends against the backdrop of beautiful city views at night in a pleasant atmosphere. Besides, except for limo service for a bachelor party, we offer additional services of a photographer, bartender, and event party manager. You can hire professionals who will make it easier for you with planning and help save money, time, and effort.
How Much Does It Cost to Rent a Bachelor Limo?
The cost consists of several components: the chosen model, the rental time, and the day of the order. Our managers will tell you which model and for how long you should order. We have different rates. The cost to rent a bachelor limousine in our agency will pleasantly surprise you. Rent a cheap limousine and make your bachelor party unforgettable. Our philosophy is quality services at reasonable prices.
Organize a farewell party with single life in a luxury car with good music, great mood, and karaoke. Our company will help you not to think about how to spend the evening before the wedding. Save your time and get great quotes.