Outstanding Limousine & Party Bus Service at Competitive Rates!
Call Us Today for Quotes and Availability
630-383-4200!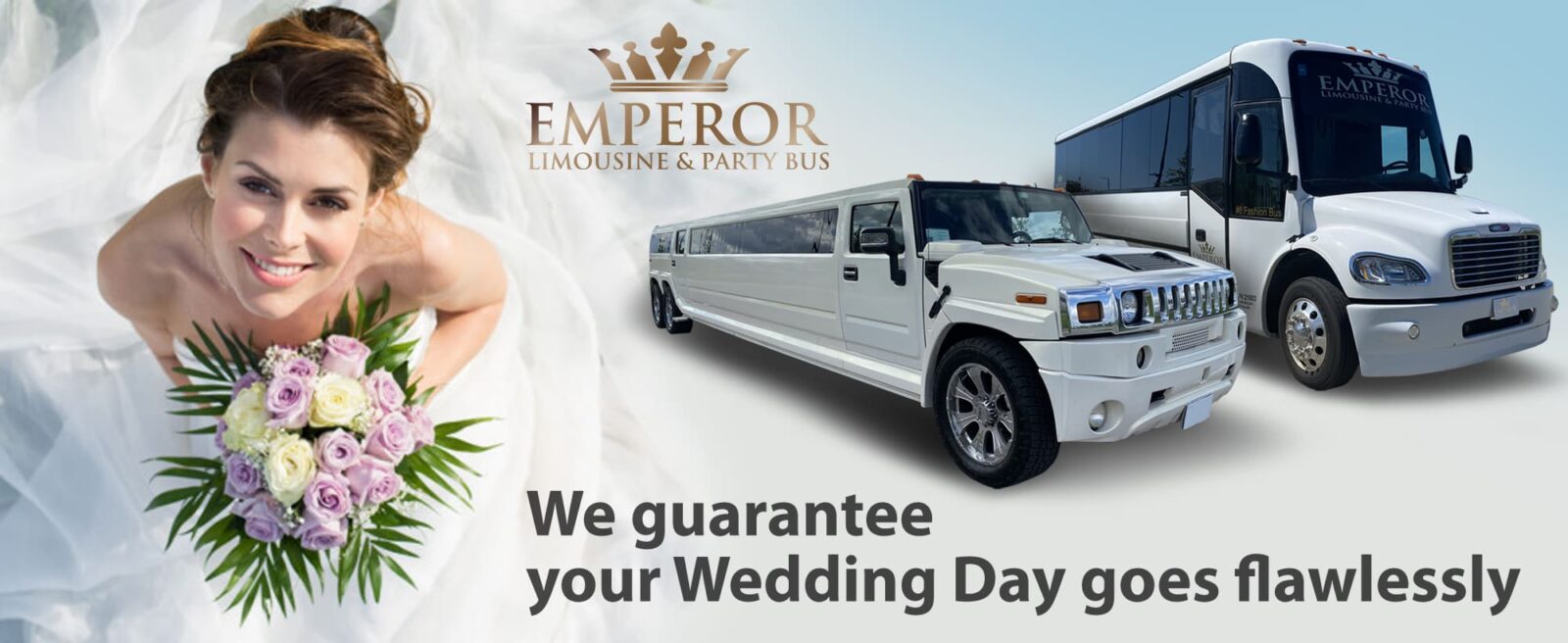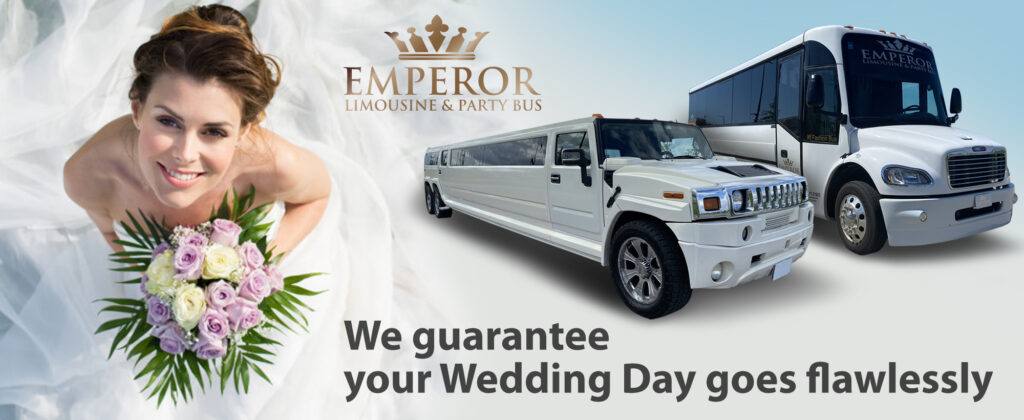 Chicago's Top Wedding Party Bus Service
Your wedding is one of the most important days of your life… that goes without saying.
We recognize this, and when you work with Emperor Party Bus to handle transportation for your wedding, you'll get a party bus that you love… and of course, the impeccable service that you need to make sure everything runs smoothly. We treat your wedding like our own.
About The Vehicles
Our fleet ranges from brand new to just a few years old. And we own all of our party buses. This is very rare in the party bus industry – as you can imagine, new party buses are quite expensive, so many companies try to cut corners by using older vehicles. We don't do that.
Others will also "outsource" your wedding to another company – this almost always results in a subpar experience for you. We never, ever do that. When you work with Emperor Limousine, you get our fleet, our staff, our everything. And we hold ourselves to the highest standards possible.
The standards we hold ourselves to
It starts with our vehicles. You can rent a party bus or limousine for your wedding – whichever one you choose, we guarantee that it will look flawless. No broken parts, ripped upholstery, or anything of that nature. In fact, it'll look like it just came out of the factory.
The vehicles themselves are nothing short of extraordinary. We'll always have a multitude of limousines or party buses for you to choose from, no matter when you're getting married. They come with elite sound systems, amazing light shows, large LCD TVs, exquisite leather seating, and on our party buses, the floor has a sleek porcelain tile finish.
You can feel free to drop by any time Monday through Saturday to see our fleet. We're based in Addison, but we service all of the greater Chicago area. Just call us to schedule a viewing.
One more thing – we also stock our party buses for you. This includes water, ice, soda, beer, and even champagne. All beverages are ice-cold, pure, and fresh. They complement the luxury experience so that you have the best ride possible.
Wedding party buses – call to learn more!
(630) 383-4200
About Our Team Members
The standards continue with our chauffeurs. They're veteran drivers, and of course CDL licensed to carry passengers. We make sure that all of them look and behave like a true professionals each and every time. This includes an all-black, pressed suit, and unmatched driving skill that makes for a smooth ride on the big day. (As you can imagine, not just anyone can drive a party bus – it takes time to master.)
They're also thoroughly briefed on your wedding from A to Z. They'll know exactly what's happening, when. You have a picture in your head of how the big day will go – our chauffeurs will make sure that the picture becomes real. No hiccups, no mistakes. Just professionals.
We guarantee everything goes flawlessly
All party bus companies claim to give you a "flawless experience", but many fall short on that promise. We don't, and here's how.
Being prompt on a wedding is important. You have a timetable, and we want you to be able to stick to that. That's why we're always on time – if we're more than 15 minutes late, your entire ride is completely free! (Our chauffeurs show up a whole three hours early to ensure that this doesn't happen. It never has.)
We have both backup vehicles and drivers. We guarantee that you'll get the exact party bus that you order, but things do happen – in case something unusual happens and your vehicle is unavailable on the day of, we have multiple replacements (of equal or higher quality) ready to go. We also have backup chauffeurs (who are briefed on your wedding, too) just in case the scheduled one gets sick.
Again, neither of these things happen frequently, but it's always good to have a backup, especially on such an important day.
On top of that, we're organized – you'll get a detailed email with all of the specifics shortly after booking, and we'll call you twice on the week of the wedding to verbally confirm that everything is all set to go.
The point we're trying to make is that we take your wedding as seriously as you do. That's why we're one of the most popular party bus companies in Chicago for weddings. You get the best party bus, the best service … and the cheapest price.
You're probably already spending quite a bit on your wedding – we don't want to add to that cost with exorbitant rental costs. Quite the opposite, actually… our entire fleet is priced very competitively, and if you come to us with a lower quote from another company, we'll do our very best to beat their price and win you over.
Experience the Emperor Difference.
Call (630) 383-4200 to speak with a booking agent!
Wedding Packages to Match the Occasion
You only deserve the best wedding packages the industry can offer. That is why at Emperor Party Bus all of our wedding services come with the following amenities, at no extra cost:
Professionally detailed party bus on the outside & inside
Licensed, courteous chauffeur that will ensure a perfect wedding transportation
All of our chauffeurs are uniformed, wearing a golden vest & a tie, black pants & shoes, and a white shirt
Color coordinated decorations on the outside of the party bus
Just Married Signs on the party bus after the ceremony
Red Carpet Service with Champagne toast in front of the church
Complimentary assortment of ice, water, and soda for refreshments
Complimentary liquor wet bar of beer & Champagne (You're welcome to bring additional beverages on board)
We provide you with Champagne flutes & glasses
Unlimited Stops and Mileage so you can go where ever you'll need to with no restrictions
Written contract to guarantee your vehicle for the day and timeframe of your wedding
Email and phone confirmations to ensure that complete details are in place for your special day
On-Time Guarantee for all of our wedding packages! If we are late more than fifteen minutes for whatever reason, your wedding package will be completely FREE!
Wedding Party Bus Service Customer Gallery
Please take a look at recent photos of our wedding customers below.
Recent Wedding Customer Videos
Take a look at a couple of recent wedding party bus service videos in Chicago. We would like to thank all of our brides and grooms for recently using us as their wedding party bus service provider!
Recent Customer Thank You Cards