Outstanding Limousine & Party Bus Service at Competitive Rates!
Call Us Today for Quotes and Availability
630-383-4200!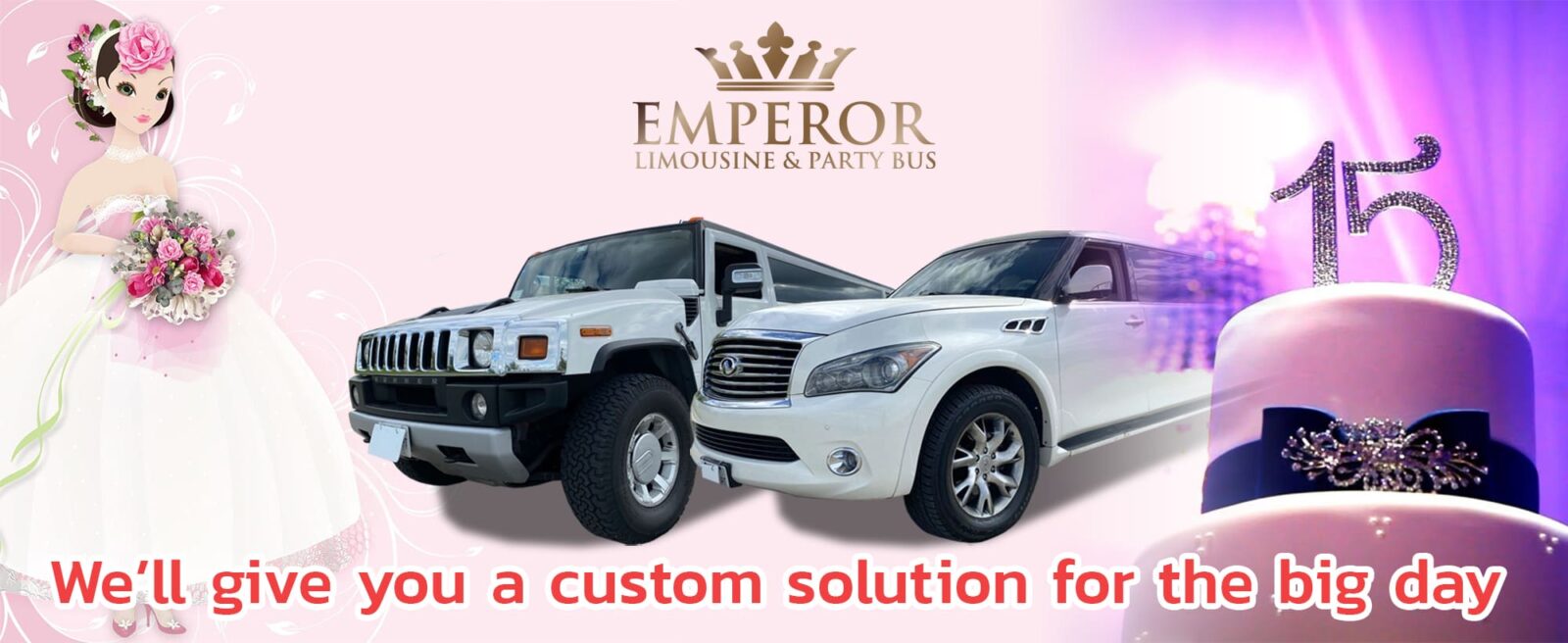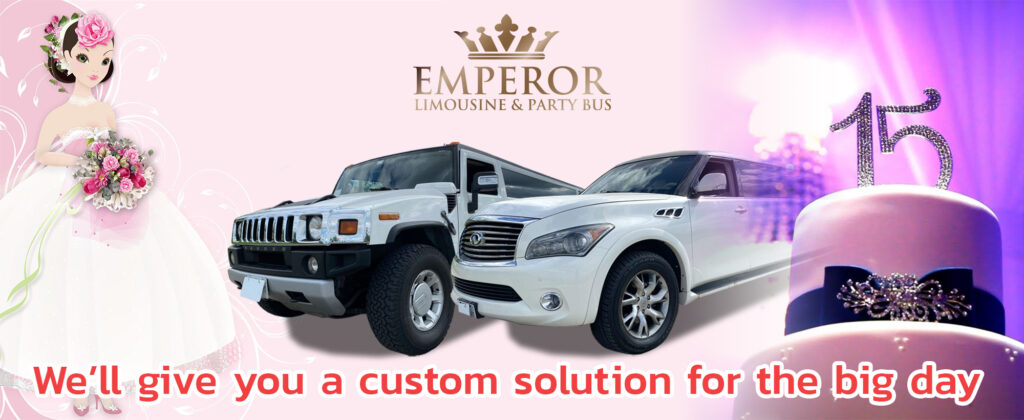 Quinceanera Party Bus & Chicago Limo Service
A quinceanera only comes once. Make her day special by going with Emperor – we have the most luxurious party buses and limos in all of Illinois.
We'll give you a custom solution for the big day – our service and vehicles combined will make for an unforgettable quinceanera. Call us today to learn what we can do for you.
The best transportation for quinceaneras.
Call Emperor today.
(630) 383-4200
Combining formality with fun
A stunning dress deserves a stunning ride to accompany it. All of our quinceanera limousines have the following amenities:
High-class, exquisite leather seating to make sure that everyone's happy and the dress stays looking good
LED light and laser shows to turn an ordinary limousine ride into a memorable party
Sound systems that are out of this world – put together a playlist with her favorite songs, or just hand her the auxiliary cord and let her play whatever she wants
Complimentary beverages – water and soda chilled to the perfect temperature for everyone to enjoy
No imperfections – no ripped upholstery, stains, or anything like that. Our vehicles are pristine.
Plenty of room – we have limousines that carry between 10 and 24 passengers, and they all have plenty of room for everyone to ride comfortably in
Call today to book your quinceanera limousine. We're taking the event just as seriously as you are, and you can expect service that's nothing short of exemplary.
Experience the Emperor difference.
Call for your quinceanera limousine.
630-383-4200
What Makes Emperor Different?
That's a good question. There are plenty of limo companies in the Chicago area, but no one does it like Emperor does.
We have a diverse fleet – from Cadillac to Hummer, all of the best luxury limousine brands are covered. On top of that, each and every vehicle is either brand new or just a few years old. This means the latest technology and amenities, as well as a safer and more comfortable ride.
Our chauffeurs only add to that safety and comfort. They're all CDL certified to drive with passengers on board. There's a lot more to it than just that, though. We hold our chauffeurs to the highest standards – they're always prompt, briefed on your quinceanera so they know what to do, and of course, they drive with the utmost caution to ensure that everyone is safe.
Unlike other cheap limo companies, we don't outsource any of the work on our vehicles. Our mechanics and maids are all in-house, so we have complete control over the quality of the vehicle. Hiring all of our staff also allows us to give you a lower price, as we do not pay any premiums that other companies are forced to pay.
Other companies also pay a premium on the vehicles themselves. Believe it or not, many limo companies don't actually own their limos. They rent them! This means that when they get a limo, they have no idea what condition it will be in. If it's in poor condition, they're still going to send it to you.
If they don't rent their vehicles, they probably have older limousines. It's a way to cut costs, but the client (you) just doesn't get as good of an experience. You can tell when it's an old car.
The point we're trying to make is that we do things differently, and it really shows. You get a better, safer ride, and prices so cheap that you'll never consider going with anyone else.
Call Emperor today to pick your ride.
Quinceaneras are our specialty.
630-383-4200
Se habla español!
Quinceanera Party Bus Service
Here's a couple of pictures from our recent quinceaneras!