Outstanding Party Bus Service at Competitive Rates!
Call Us Today for Quotes and Availability
630-383-4200!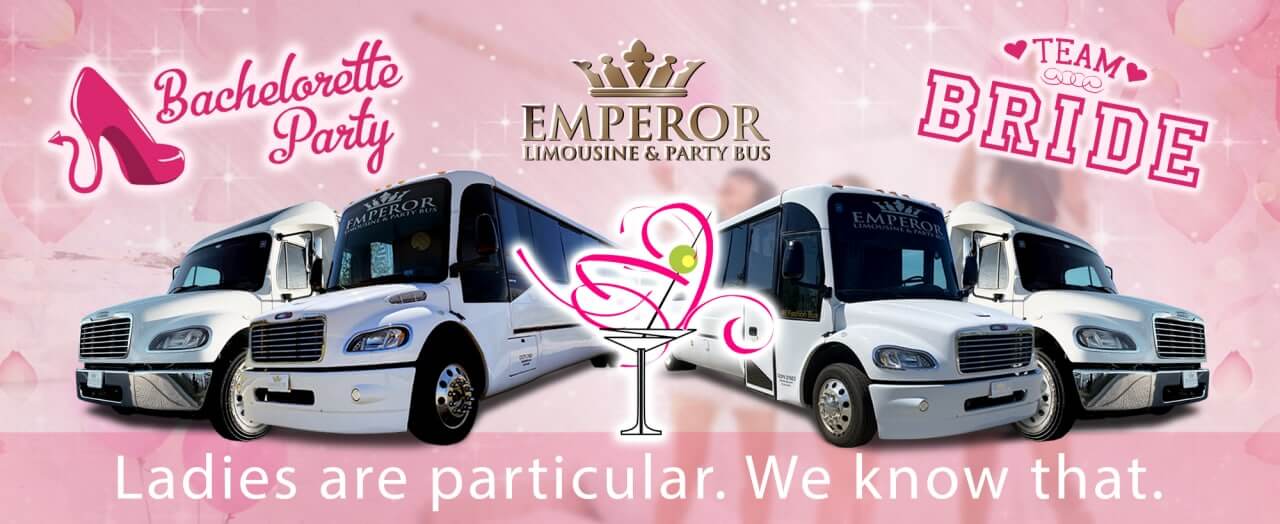 A bachelorette party is one of the most important holidays in the life of any girl or woman. It is a party at which she says goodbye to her single life and prepares to become not just a bride but the wife of her chosen one. That's why you have to make such a day unforgettable. And we'll help you to do it. We offer a comfortable bachelorette party bus in the Chicago area, Illinois.
Gather your best friends you want to see near you on that big day and make it a fun and exciting evening. And we'll do everything we can to ensure your party on the bus is a memorable and enjoyable experience.
Our fleet of party buses for bachelorette parties
Look at our fleet options if you want to rent a party bus for a bachelorette party.
We have a variety of models in our fleet. Each bus is equipped with all the necessary equipment.
Depending on the number of guests at your bachelorette party, you can choose the following party buses: six buses for 30 people and two buses for 34, 36, and 40 guests. Also, we have an SUV limo in our fleet.
We operate throughout the Chicago area, IL, which gives you the perfect opportunity to organize the most unforgettable bachelorette party that will last in your memory and the memory of your friends. You deserve nothing but the best. And we offer you the highest quality service. You will be pleasantly surprised at the cost of hiring a party bus.
Never stop partying.
Call to learn about our fleet.
(630) 383-4200
Why do you need to rent a bachelorette party bus in Chicago?
There are several reasons to use bachelorette party bus rental in Chicago, IL, and nearby areas:
Comfortable transportation. Not only are our buses equipped for parties, but they are also in excellent technical condition. Each vehicle is regularly serviced. Inside are comfortable sofas and all the party equipment.
Spectacular appearance. It would be best to have a modern and elegant party bus to impress your friends or casual passersby. We can decorate it outside and inside so that everyone understands who is having a party today. No one will forget your exit from the luxury bus.
Plenty of room for everyone. You can invite up to 40 guests for your bachelorette party. And each of them will be comfortable and convenient inside. Soft leather sofas, tables, mini-bar, fridges for drinks, and much more are provided for this. It is more exciting and original than going to a restaurant or disco. In addition, our bus can create the atmosphere of a real nightclub.
Unforgettable impressions. We offer bachelorette Party Bus Amenities so you can never forget the day. We are not trying to overshadow the wedding celebration, but we want our customers to be 100% satisfied.
Unlimited stops. Unlike cabs, a party bus and a professional driver will be at your complete disposal. You can drive around the whole area and stop at several restaurants, nightclubs, or other places. In this case, the bus will wait for you as long as necessary.
All you need to do is choose the right party bus for a bachelorette party, and we'll get it ready for you on the appointed day.
How much does it cost to rent a bachelorette party bus?
It is safe to say that renting a party bus will be more profitable than ordering several cabs. Our company operates on the principle of "Quality and inexpensive". We own the fleet, and we rent it. It makes it possible to offer affordable services of high quality.
We do not just provide transportation services. It is a vast, spacious bus with all the equipment for a bright, memorable, and fun party and your personal, professional driver for the whole evening.
When you rent party buses in Chicago, you get a comprehensive service. You can have your entire bachelorette party on the bus, riding around the city. Judging by customer quotes, this is a trendy way to celebrate bachelorette parties and many other celebrations.
The bus will have a state-of-the-art sound system, TV, comfortable sofas, a pole for dancing, and a dance floor. Also, you can use aLED lighting with settings, light music, a mini-bar, and a refrigerator.
To find out the exact cost to rent a bachelorette party bus, fill out the form on the website or call us by phone. Our managers will help you to choose the best bus for your bachelorette party. You can learn about additional services to coordinate the car's time and place of arrival.
The price of hire will pleasantly surprise you. A quality service will clarify that you did the right thing by contacting our company.
Make this day unforgettable. And we will help you!
Call right now to speak with a booking agent.
(630) 383-4200
Bachelorette Party Customer Gallery
Take a look at a couple of pictures of our recent bachelorettes! If you have your party coming, please call us today for a free quote at 630-383-4200.
FAQ
How much does it cost to rent a party bus for a bachelorette party?
You will save money if you rent a limousine for a bachelorette party. All our employees work only in our agency, and we provide only our cars for hire. So you don't have to overpay. Our affordable prices will pleasantly surprise you. We offer luxurious conditions at reasonable prices.
What is included in a bachelorette party bus service?
We have a complete set of specialists on staff who will help organize an unforgettable party. We provide the services of a driver, photographer, DJ, bartender, and manager. Our experts will help you find flowers, drinks, decorations, and more at competitive prices in Chicago, IL.
Where to rent a bachelorette party bus in Chicago?
Customers can order a car from us in any convenient way: at the nearby office in the Illinois area or going to the address indicated on the website. You can also contact us on WhatsApp or leave a request on the web page.
Is a party bus for a bachelorette party worth it?
In our fleet, we have collected the best brands of limousines. They undergo regular inspection after each order. Also, our rental cars are equipped with a powerful sound system, subwoofers, lasers, and lights, a dance floor, a pole, chairs and a bar with drinks.
Do you provide after-hours service?
Our experts are on call 24/7 from Monday to Friday. We are ready to solve your problems at any time. The convenience of our customers is a priority for us.