Outstanding Limousine & Party Bus Service at Competitive Rates!
Call Us Today for Quotes and Availability
630-383-4200!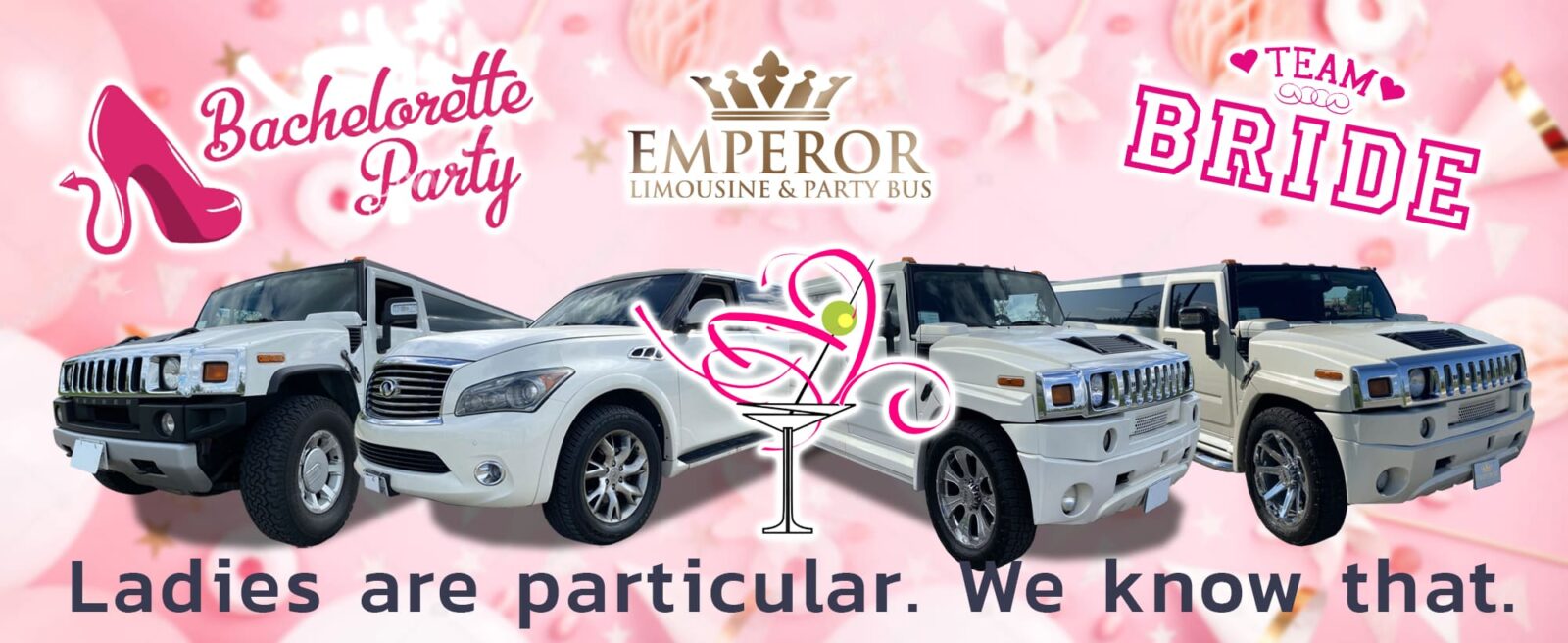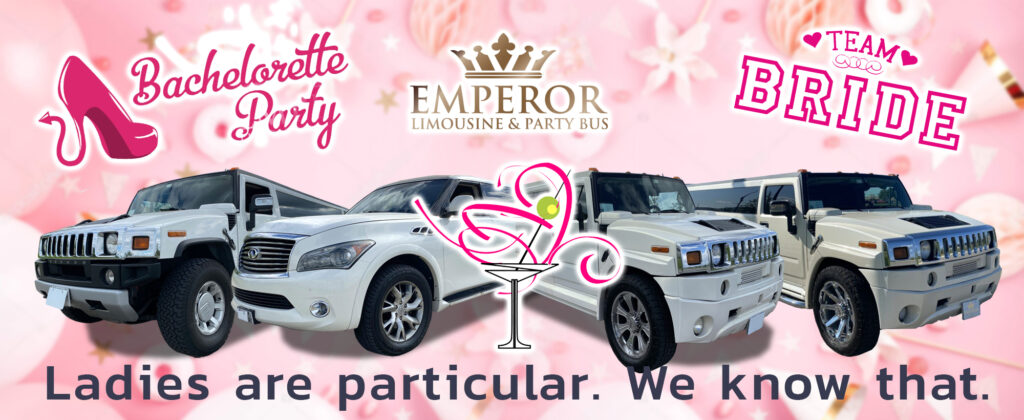 Bachelorette Party Limousine & Party Bus Service
Girls' nights out are already fun. A bachelorette party is like the ultimate girls' night out. Ride in comfort, and more importantly style with any of our exquisite limousines or party buses in Chicago area.
Spotless, glimmering porcelain white exterior, high-class leather seating, light shows, fully stocked coolers, amazing sound systems to play your jams… and our party buses are basically mini clubs on wheels. Party non-stop from the start of the night all the way to the very end.
Never stop partying.
Call to learn about our fleet.
(630) 383-4200
Ladies are particular. We know that.
Guys might not care about the details. But we know that you ladies do.
We own all of our Chicago limos and party buses. All of them are either brand new or just a few years old. They're constantly inspected by veteran mechanics to ensure that your ride is smooth around every turn and over every bump. On top of that, we have professional cleaning crews who come in after every client and turn the interior inside out.
The result? A new vehicle with the latest amenities and technology that literally looks like it was just delivered to us with zero miles on it.
Let's talk service.
It's a little bit ridiculous that chauffeurs at other Chicago limo companies don't look or behave like they should. You know the chauffeurs in movies? Ours look and behave like that. Always polite and helpful, and of course, dressed in a pressed, all-black suit to really impress you.
Your ride will always be prompt, guaranteed. Tell us a time and we'll get there before you need to leave. Your night always goes off without any hassles.
Bachelorette party buses
If you like to dance, you're going to want to get one of our Chicago party buses. They were all built exclusively for us by one of America's largest party bus manufacturers, and we're quite proud of them.
They're big enough to dance in. They hold up to 30 people. There are light shows and lasers covering the entirety of the inside. The sound systems will make you think that you're either in a club or at a concert. The floors or porcelain tile, and overall, everything is spotless.
Bachelorette limousines
For smaller parties or a more laid back atmosphere, choose our limo services. They're cozier. But at the same time, it's still a party inside – the sound systems and light shows are of the same quality as they are in the party buses. Sit down and relax while you're on the move… but of course, keep the party bumpin'.
We have a limo that will suit any size party. They range from 10 to 24 passengers. Whatever you need, we can accommodate.
Ladies, call us now!
(630) 383-4200
We help you save money
And we don't do that by cutting corners… that's for sure.
We have the entire process streamlined. All of our employees – booking agents, chauffeurs, cleaning crews, etc. – are employed by us, and never outsourced. This means that we don't pay a premium, and we pass those savings directly onto you.
And as we mentioned, we own all of our vehicles. Period. It's sort of like the costs of owning your own car vs. renting one every single day… obviously, you'll save money by owning one. And again, we pass those savings onto you.
This adds up to having a substantially cheaper night than if you went with another company, and you get a better vehicle and much better service on top of that.
Go with the best.
Emperor Limousine awaits your call.
(630) 383-4200
It's our job to make your night special.
You climb into one of our vehicles, and it immediately sets the mood for your night. Even when you're coming back, you don't get that downer feeling that you'd get if you were in a regular car or bus. Your night flows spectacularly from start to finish.
We have preset packages if you're looking for a no-hassle solution, and if you have any special requests, we're more than happy to accommodate them. Emperor Limousine began with one simple goal in mind: to have each and every passenger have one of the best nights of his or her life. Tell us anything special that we need to do in order to make that happen, and we'll do it.
Call right now to speak with a booking agent.
(630) 383-4200
Bachelorette Party Customer Gallery
Take a look at a couple of pictures of our recent bachelorettes! If you have your party coming, please call us today for a free quote at 630-383-4200.
FAQ
How much does it cost to rent a party bus for a bachelorette party?
You will save money if you rent a limousine for a bachelorette party. All our employees work only in our agency, and we provide only our cars for hire. So you don't have to overpay. Our affordable prices will pleasantly surprise you. We offer luxurious conditions at reasonable prices.
What is included in a bachelorette party bus service?
We have a complete set of specialists on staff who will help organize an unforgettable party. We provide the services of a driver, photographer, DJ, bartender, and manager. Our experts will help you find flowers, drinks, decorations, and more at competitive prices in Chicago, IL.
Where to rent a bachelorette party bus in Chicago?
Customers can order a car from us in any convenient way: at the nearby office in the Illinois area or going to the address indicated on the website. You can also contact us on WhatsApp or leave a request on the web page.
Is a party bus for a bachelorette party worth it?
In our fleet, we have collected the best brands of limousines. They undergo regular inspection after each order. Also, our rental cars are equipped with a powerful sound system, subwoofers, lasers, and lights, a dance floor, a pole, chairs and a bar with drinks.
Do you provide after-hours service?
Our experts are on call 24/7 from Monday to Friday. We are ready to solve your problems at any time. The convenience of our customers is a priority for us.