Outstanding Party Bus Service at Competitive Rates!
Call Us Today for Quotes and Availability
630-383-4200!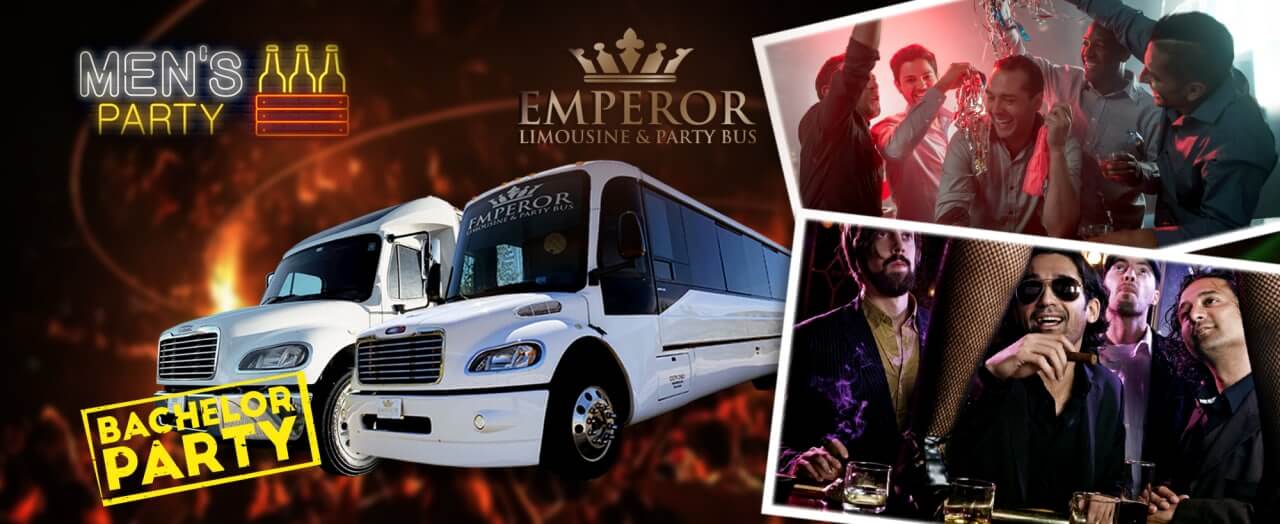 Ordering a party bus in the Chicago area from Emperor Limousine & Party Bus service is the best decision for celebrating your last day as a bachelor.
Why do you need to rent a bachelor party bus in Chicago?
If you are planning a bachelor holiday to say goodbye to your unmarried life, you should consider hiring our grand bachelor party bus in Chicago, IL. This will be something unusual, something that will stir emotions up.
Celebrating up in style will create unforgettable memories for you and your guests. We won't tell them to your bride! You can cruise from venue to venue or from bar to bar and have a great time. Actually, if you want, you can always stay on the bus. There is no need to get out because we have everything for a party, a disco, a bar and a dance pole inside!
You do not need to worry about safety because it's not you or your guests who will be at the steering wheel. Our professional drivers will deliver you safely and comfortably to wherever you want to be. Besides, we have all the needed licenses, and our limos and buses are constantly inspected.
Our fleet of party buses for a bachelor party
If you have a lot of guests, a bachelor party bus rental in Chicago, IL, will save your celebration. Our outstanding buses are spacious enough for a large crew and party-goers. Even if you have not so many guests, the bus can still be yours for a holiday.
What if your rental time comes to an end, and your party is in full swing? Not a problem! Our service supposes extra time at extra cost. Nothing will stop you if you decide to continue this event.
A great idea is when the bachelor with his crew rides a party bus and the bachelorette parties with her bridal crew in another bus. They can even compete over whose bus is more extraordinary! Rent a party bus for a bachelor party at our service, and you will come to celebrate your wedding with us as well!
Bachelors, travel in style.
Call to learn about our rides.
(630) 383-4200
Bachelor Party Bus Amenities
Our fleet of party buses for the bachelor party is stuffed with all the necessary amenities to make your memorable day comfortable and fun.
To start with, our experienced drivers are always on time. They will pick up your bachelor gang and drop it off as agreed.
All of our party buses for the bachelor party are equipped with an elite sound system. You can choose any music you are up to. Heads and ears on the streets will be all turned to see where that concert sounds from.
Our party transport also boasts LED light shows and high-end lasers. If you hire us, disco-on-the-wheels is guaranteed since there is also a dance pole in each party bus.
Emperor Limousine & Party Bus cares not only about fun but also about comfort. You and your guest will feel relaxed in our luxury seating when they get tired of dancing.
You can order additional services like a DJ, for example. We will gladly meet all your requirements because we are happy when our clients are happy.
We also want to stress that our buses are always clean and sanitized for each client. They are all attentively inspected and are in perfect technical condition.
How much does it cost to rent a bachelor party bus?
The cost to rent a bachelor party bus near you can differ from company to company. Emperor Limousine & Party Bus service beats all the rates. Why? We have some secrets.
The focus is that we do not use any middlemen. Since we own all the means of transport we offer for rent, we can cut down the cost significantly.
Visit our gorgeous auto park to see what party buses in Chicago we offer, or contact us via our website. The only thing is to make sure you do this beforehand. Our friendly and always-willing-to-help staff will advise you on the cost of renting a bachelor party bus in Illinois.
Fill out a short form that is created to find out the date of your celebration, the number of guests, and the desired rental time, and we will be all ears to all your additional wishes and requests. The price will depend directly on these points. That is why it can differ from client to client, but it always remains affordable.
We provide quotes for the Chicago area on the phone or via the Emperor website. We are always at your disposal if you want to find quality and fair cost in one vial.
Put us to the test.
You've never seen service like this.
(630) 383-4200
Bachelor Party Customer Gallery
Below please find the most recent pictures of our bachelors!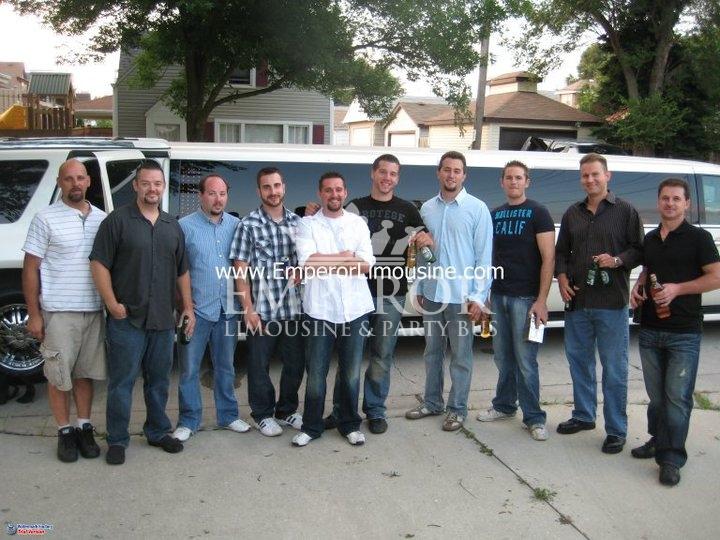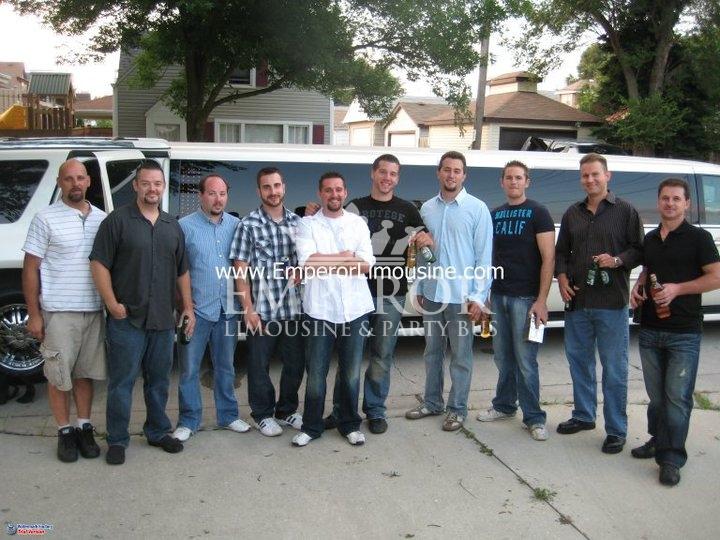 FAQ
How much does it cost to rent a party bus for a bachelor party?
The availability of our services is our priority. However, we do not lower the quality bar. For a reasonable amount of money, you get first-class service and a luxury car. Leave a request on the website and get an advantageous offer. If you find a low rental price from competitors, we will beat it.
What is included in a bachelor party bus service?
In addition to renting a limousine, you can count on the following benefits from us: professional drivers, bartenders, DJs, and photographers. We take care of the organization of the party, the purchase of food and drinks, and the decoration of the limousine and the hall.
Where to rent a bachelor party bus in Chicago?
We keep up with the times, so we have not only created a developed system of nearby offices in Chicago and the state of IL, you can leave a request on the website or contact us on WhatsApp. We are ready to cooperate 24/7 from Monday to Sunday.
Is a party bus for a bachelor party worth it?
Our limousines are equipped according to the highest standard. There are high-end sound systems, plush seating, an illuminated dance floor, a drink bar, LED light showsб and colorful lasers. Already hiring a car, you can start your unforgettable party.
Do you provide after-hours service?
Our staff can organize a party for a narrow circle of guests, your closest friends, and relatives. Our managers know the best clubs and DJs. We will help you find cozy areas for a chamber party.