TITANIUM Party Bus – 30 passenger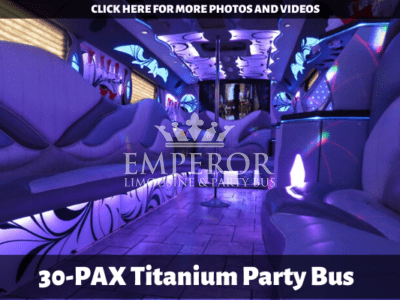 Outstanding Limousine & Party Bus Service at Competitive Rates!
Call Us Today for Quotes and Availability
630-383-4200!
Please take a look at our TITANIUM Party Bus! More photos and videos will be available soon, meanwhile,
please call us at 630-383-4200 and schedule a viewing in our showroom.
Modern yet cultivated, The Titanium is one of our most popular party buses. With a neat, comfortable inside, a roaring sound system, and beer/champagne on ice, it makes for the perfect ride to and from any wedding, concert, party, or sporting event.
Call now to book The Titanium.
Affordable, luxurious, and modern.
(630) 383-4200
What's inside The Titanium?
It's more than just a party bus. It's a party bus that has been built for us specifically. After hours upon hours of design, we're finally offering The Titanium to the public, and we're very excited to be doing so.
Leather and granite only – what's this "plastic" you speak of? We don't use it – the seats are a soft leather, and the floor and counter tops are both pure granite.
A display to blow your mind – not only are there LED light pillars dispersed throughout, but The Titanium also has full LED light shows. This turns your ride into something more extravagant – many past clients have claimed it's as good as or better than the lighting at concerts.
Sounds to make your ears melt – our speakers are crisper than anything you've heard before, and with the sub woofers accompanying them, this sound system is something out of this world.
Drinks, doors, and poles – free champagne, beer, water, and soda, all kept on ice throughout the party bus. A sound-proof sliding door between you and your driver. There's even a dancing pole in the middle.
No one does it better than Emperor.
Call us today to book your party bus.
630-383-4200
The Titanium Edition Party Bus Limousine Amenities
Seating Capacity for up to 30 Passengers (26-28 comfortably depending on guest size)
Wide 4 foot floor area in the interior of the bus
Custom designed & built interior, one of a kind in the world!
Beautiful stone-tile floor
Gorgeous 4 tone leather seating: pearl white, silver, light and dark beige
LED Seat Under Lights
LED Dance Area in the Middle of the Bus
LED Posts & Side Reals change colors
Mesmerizing LED ceiling with design imprint
Club-like upgraded sound system: 8 speakers, 6 subwoofers, 4 amplifiers
Dance/Support Pole in the Middle of the Bus
Disco and Laser Light Show Throughout
Changing fiber-optic rope lights
CD/DVD/MP3 Player & IPOD Compatibility
Granite bar areas with ice chests and cup holders throughout
3 Big screen TV's 65? and 2 30?
Sliding door for privacy between the guests and the chauffeur
Interior blinds for privacy from the outside of the limousine bus
Much, much more in this amazing bus!